A bakery store normally is tempting enough for cake-a-holics because of cake's beautiful cover and good smell. However, the e-commerce trend has urged it to change itself to get closer to customer. Magento Bakery Theme is born in that way.
The design concept is elegant with light and clear background so that shopper can showcase the eye-catching beauty of products. Shopper can set beautiful slides into slideshow on home page to capture client's attention. There also have custom blocks for video gallery, blog, news, articles, and banners to make your site be more informative. The information of cake products will be delivered to customer in such quick and convenient ways as product sidebar, product slider, promotional banners…Additional, the theme support visual effect, hover effect or stylish font that greatly enhance the appearance of products.
This theme is also multi-purposes; therefore, you can flexibly use it for different items like grocery, hand-made, fast food…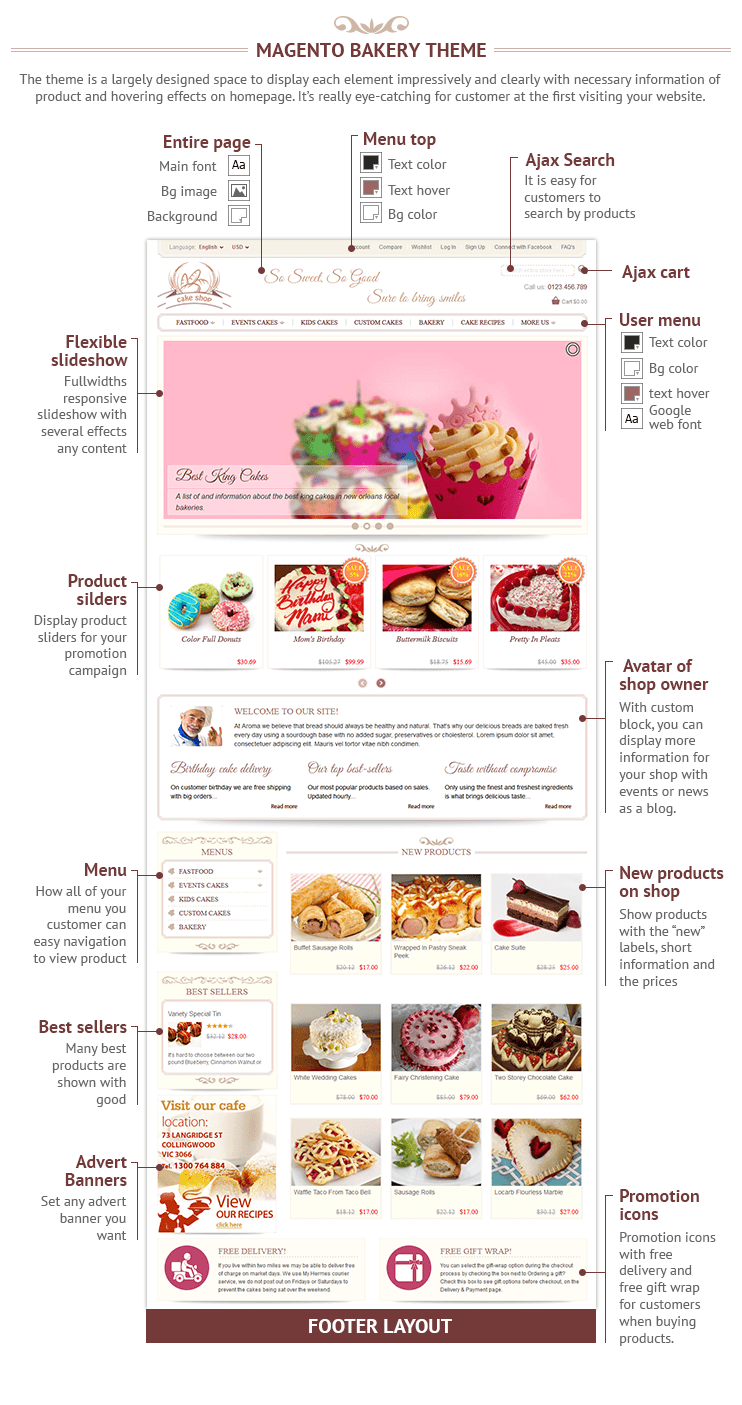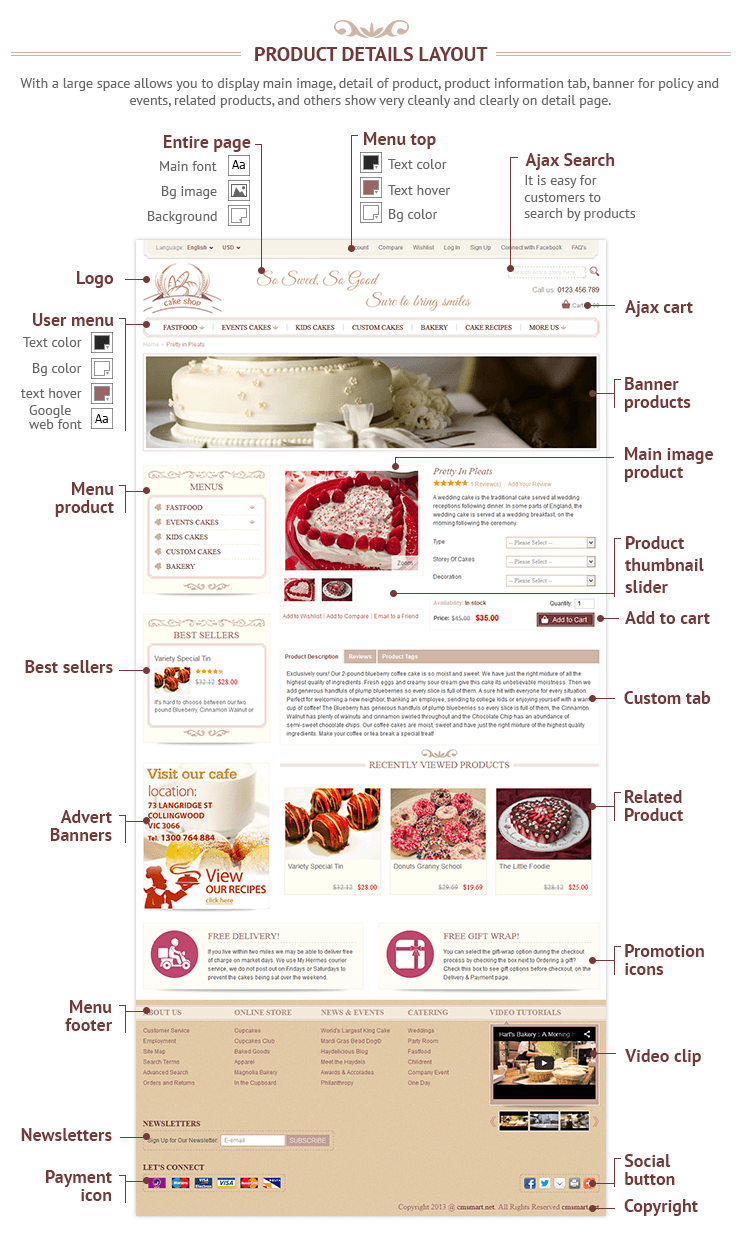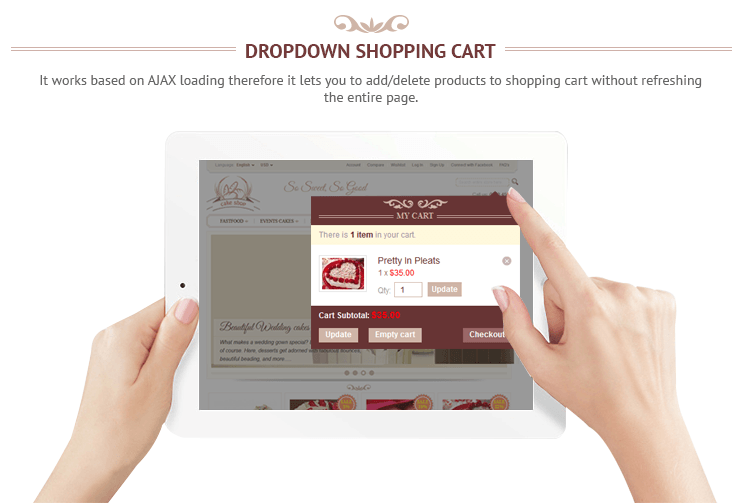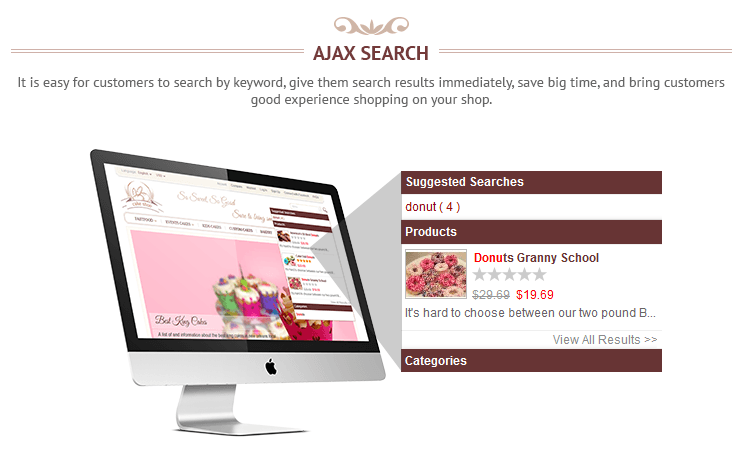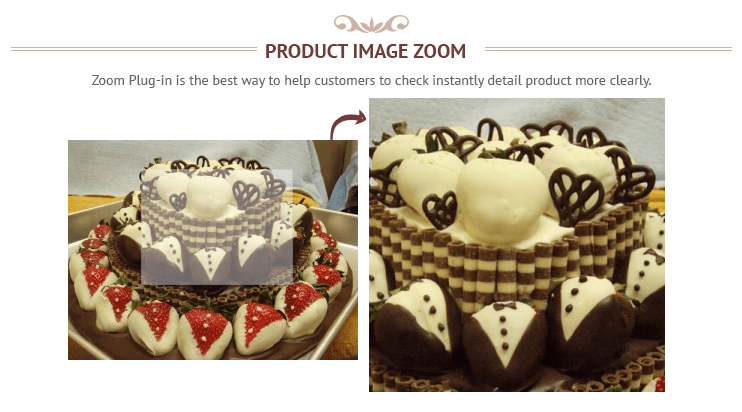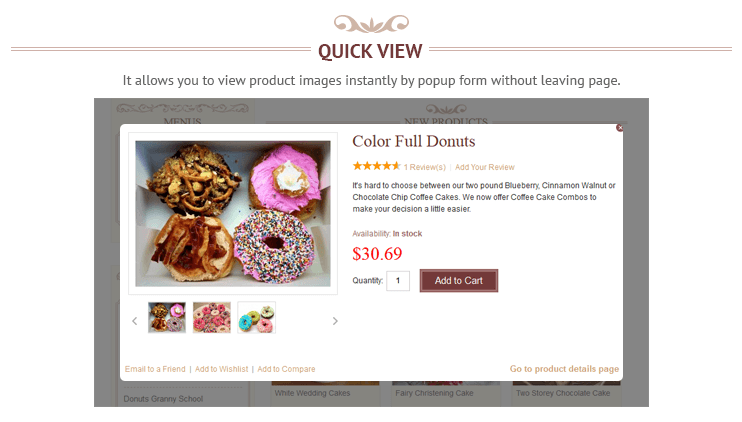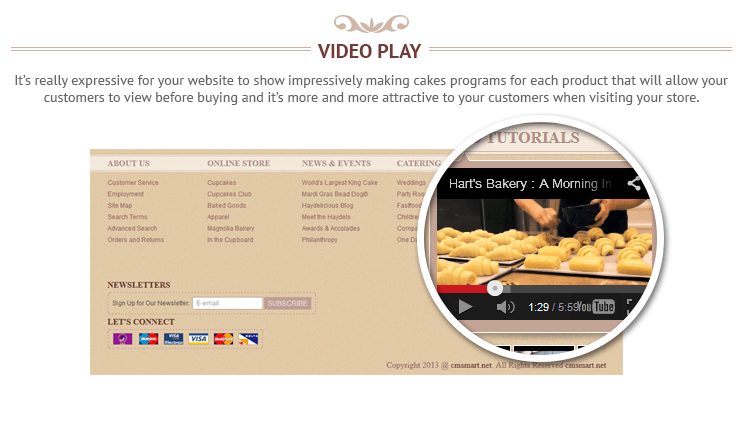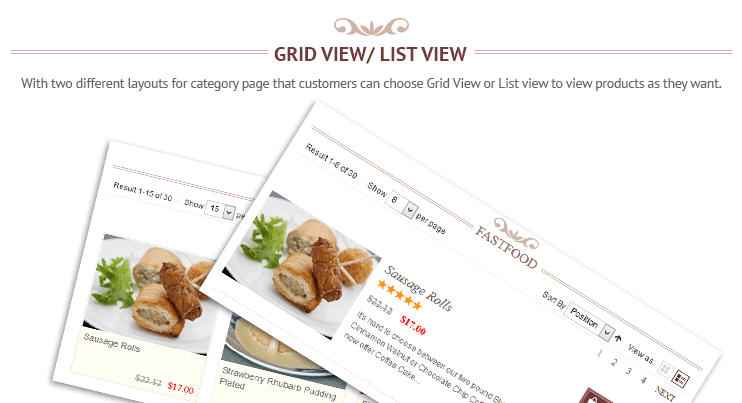 This is a Magento Themes item
Product rating:
Magento 1.6.x, Magento 1.7.x, Magento 1.8.x, Magento 1.9.2.x, Magento 1.9.x
Why choose
Cmsmart?
Leading in quality and performances
We are proud ourselves to release our quality products to the e-commerce world.
Full solutions for niches industry
We provide many powerful completed Printshop, Multistore marketplace, etc solutions for industry
Excellent support and consultancy
We have a dedicated support team that delivery the excellent support
Private customization for your project
If you don't like our product as it is, you can custom it as you want
Long-term partnership care
We also want to have a long-term partnership with customer to support and take care
Changelog
See our changelog below to update your site better
Compatible with: Magento 1.6.x, Magento 1.7.x, Magento 1.8.x, Magento 1.9.2.x, Magento 1.9.x
Version 2.0 Updated: 2016, Jul 26
+ Compatible with MCE 1.9.x + Improve load speed on site + Update License function
Version 1.0 Updated: 2016, Apr 26
+ Compatible with MCE 1.5.x - 1.8.x + Support Responsive layout
Our Community
Go to our forum to hear what people discuss and get new info
Ask a question
(7) Reviews
Don't just hear from our side, hear from our beloved customers and try our demo, you will find what they said is true
Donna Champagne
Submitted:
the interface looks sweet like a cake! I really like it! Five stars for you
Ginnis Tyron
Submitted:
First of all...great theme! The interface of website is very eye-catching and I can manage my website easier, your support team is very helpful and resolve my problem very fast. Thanks for all the hard work.
Sumit
Submitted:
The theme is very nice and the support is incredible. There were some glitches in the beginning but Thanh helped me get past all these glitches. The team is very helpful and responsive.
victor hinko
Submitted:
I liked the theme. Works great. I had some issues with installing it like a demo so asked the team to make it.
It was fixed good.
Thanks
Vidrine Jean
Submitted:
I like this expansion and have used it, great for my bakery. Thanks for the support team.
George Hardy
Submitted:
Elegant interface, light and beautiful background color, attracted the attention of customers to the product details. Customize easily as eating a pie, thanks so much.
Robert Swartz
Submitted:
Beautiful interface sweet as pie, support is also very great. Thank Cmsmart so much.
Customization Request & Contact Us
Please fill out the customization request form if you need any
Ms.Janet Tran
Skype: janet.tran.92
WhatsApp: +84 963 296 509
Email: [email protected]
Mr. Vincent Ray
Skype: live:vincent_4281
WhatsApp: +84 978 847 058
Email: [email protected]
WE ARE IN LOVE WITH CLIENT
Recently, we discovered how client loving working with us by their 5 star recommedation

Top