If you check the most popular online shops thoroughly, you will easily find their differences with normal stores. The main point is its optimization on different sides of a website, from the layout to its utilities.
The template can be also integrated with mega menu to provide categories with big thumbnail images. Mega menu is compact but provides all necessary categories you want to show. Home page slider is a good module to impress visitors with big events. Just remember to replace demo images with more lively and unique images created by you to stand your site out of the market. Search box is very convenient to type words and suggestions appear including an image thumbnail, a short description and the price, so that customers can choose a product easily.
Social share is very essential so every product should be available with those options to share customers' choices with friends and their community. Think of extensions which can help your business stand out from the rest is a good starting point for success and Magento Beauty Shop Theme is fantastic to be combined with such great extensions.
Magento Beauty Shop Theme
Magento Beauty Shop has a clear layout with the main background combining major colors like purple and white. It's professional at the first sight. On the homepage slider, you can place the hottest event of your site as the highlight to draw customers' attention on it. The home page contains as neatly rich information as possible.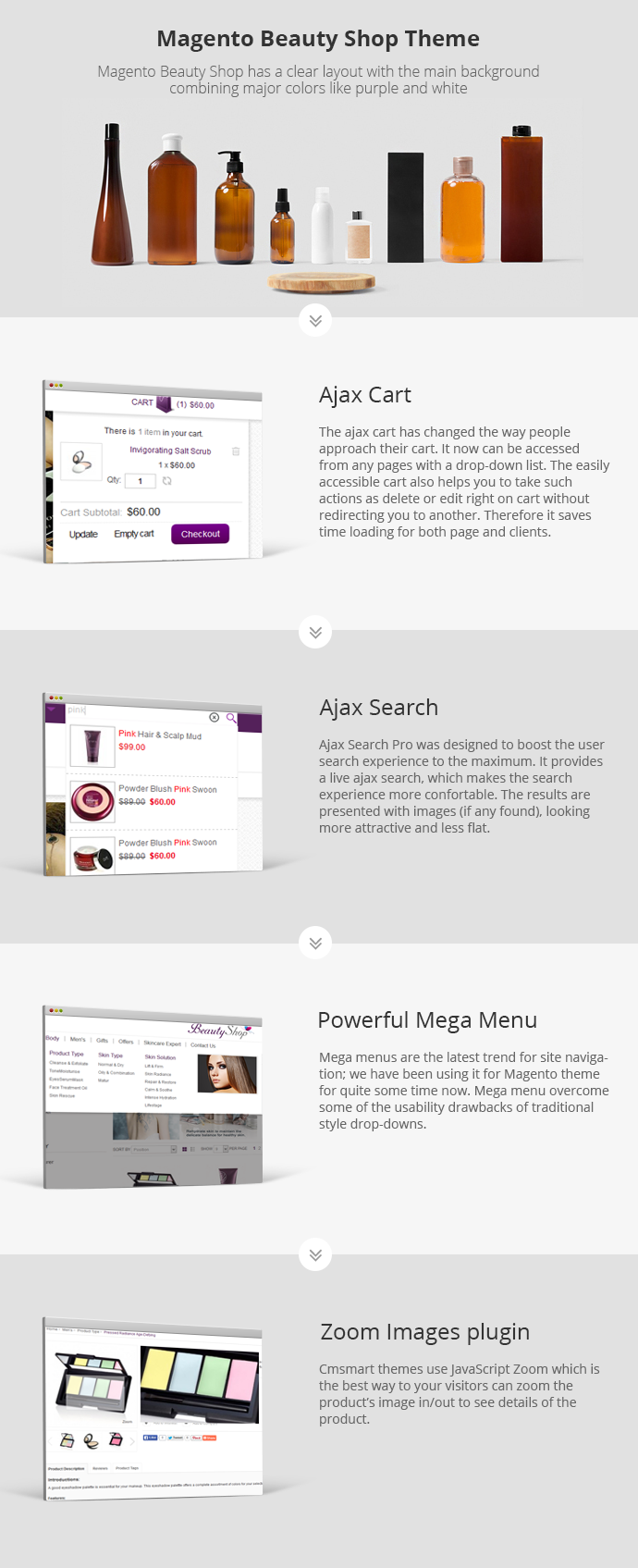 Features of Magento Beauty Theme
- Magento template for Magento 1.6.x, 1.7.x, 1.8.x, 19.x
- Advance Mega menu system with Mega menu extension.
- Product comparison function
- Wishlist function
- Product zoom function
- Product carousel
- Product quick view function
- Advanced product search module
- Modal login feature
- Advanced mini-cart module
- Related products slider on product page.
- Stylish currency and language selector dropdown modules
- Search engine optimize design with the use of proper meta tag
This is a Magento Themes item
Product rating:
Magento 1.6.x, Magento 1.7.x, Magento 1.8.x, Magento 1.9.2.x, Magento 1.9.x
Why choose
Cmsmart?
Leading in quality and performances
We are proud ourselves to release our quality products to the e-commerce world.
Full solutions for niches industry
We provide many powerful completed Printshop, Multistore marketplace, etc solutions for industry
Excellent support and consultancy
We have a dedicated support team that delivery the excellent support
Private customization for your project
If you don't like our product as it is, you can custom it as you want
Long-term partnership care
We also want to have a long-term partnership with customer to support and take care
Changelog
See our changelog below to update your site better
Compatible with: Magento 1.6.x, Magento 1.7.x, Magento 1.8.x, Magento 1.9.2.x, Magento 1.9.x
Version 2.0 Updated: 2014, Oct 08
+ Compatible with MCE 1.9.x
+ Improve load speed on site
+ Update License function
Version 1.0 Updated: 2014, Sep 08
+ Compatible with MCE 1.5.x - 1.8.x
Our Community
Go to our forum to hear what people discuss and get new info
Ask a question
Customization Request & Contact Us
Please fill out the customization request form if you need any
Ms.Janet Tran
Skype: janet.tran.92
WhatsApp: +84 963 296 509
Email: [email protected]
Mr. Vincent Ray
Skype: live:vincent_4281
WhatsApp: +84 978 847 058
Email: [email protected]
WE ARE IN LOVE WITH CLIENT
Recently, we discovered how client loving working with us by their 5 star recommedation

Top