In a comparison with other DVD shop templates on the global internet market, the theme is more advanced at appearances and convenient features.The search button is standing alone in the center of the main page. The theme shows hot items on homepage slideshow with a "shop now" button that directs to the destination, which is not often seen on other templates. Especially, the "buy now" button goes with every product on the homepage and category page as customers wish to.
Besides of grid/ list view, Magento DVD Shop theme provides the additional function to browse products by titles. Top charts are available with an automatic running chart on the category page.The theme allows a customer to watch trailer of the DVD, thanks to our product video extension that's provided free or to buy products as a bundle at discount prices. This feature is called as Magento Frequently Bought Together extension (a paid module).
DVD Shop Theme is responsive on Ipad ands tablets. To run this theme on mobile devices, please buy Magento Mobile Theme as a combo extension.
Magento DVD Shop Theme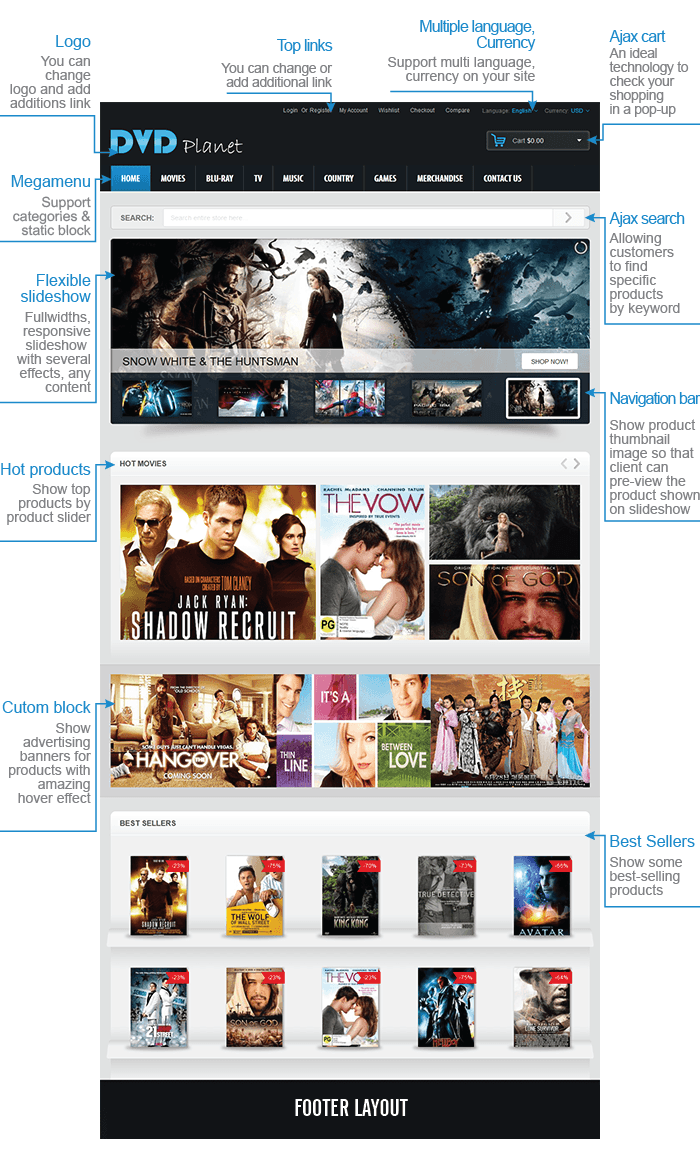 Responsive Theme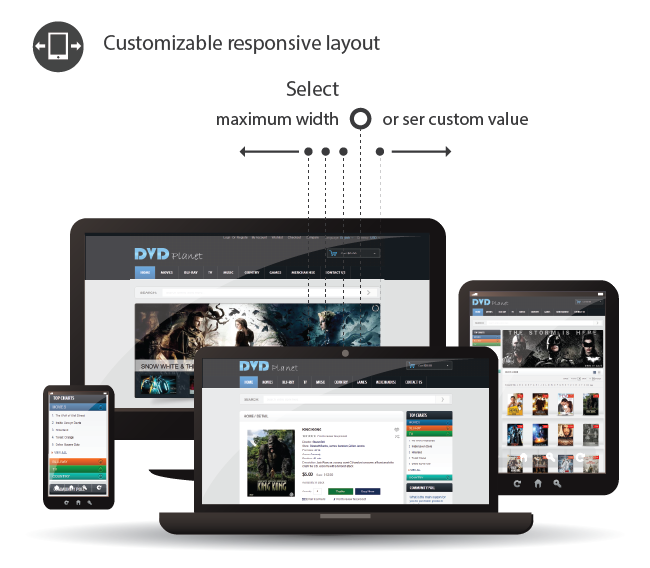 This is a Magento Themes item
Product rating:
Magento 1.6.x, Magento 1.7.x, Magento 1.8.x, Magento 1.9.2.x, Magento 1.9.x
Why choose
Cmsmart?
Leading in quality and performances
We are proud ourselves to release our quality products to the e-commerce world.
Full solutions for niches industry
We provide many powerful completed Printshop, Multistore marketplace, etc solutions for industry
Excellent support and consultancy
We have a dedicated support team that delivery the excellent support
Private customization for your project
If you don't like our product as it is, you can custom it as you want
Long-term partnership care
We also want to have a long-term partnership with customer to support and take care
Changelog
See our changelog below to update your site better
Compatible with: Magento 1.6.x, Magento 1.7.x, Magento 1.8.x, Magento 1.9.2.x, Magento 1.9.x
Version 2.0 Updated: 2014, Oct 08
+ Compatible with MCE 1.9.x
+ Improve load speed on site
+ Update License function
Version 1.0 Updated: 2014, Sep 08
+ Compatible with MCE 1.5.x - 1.8.x
+ Support Responsive layout
Customization Request & Contact Us
Please fill out the customization request form if you need any
Ms.Janet Tran
Skype: janet.tran.92
WhatsApp: +84 963 296 509
Email: [email protected]
Mr. Vincent Ray
Skype: live:vincent_4281
WhatsApp: +84 978 847 058
Email: [email protected]
WE ARE IN LOVE WITH CLIENT
Recently, we discovered how client loving working with us by their 5 star recommedation

Top