Magento Ebay Store Theme
Magento Ebay Store Theme is unique layout integrated with many functionaries & features for customers to sell multiple products, and to make your store stand out from the competition.
Details
Magento Ebay Store Theme has the interface and some functionalities like the Giant Ebay. Customers will be impressed by your store at very first sight, which increases the credit of your company. Let's now take consideration into the inner beauty of the template further.
Magento Ebay Store Theme is specially designed with two styles of the category page and two styles of the product details page. In addition, the ajax search module is free with the theme purchase.The highlight feature on the header is the central search bar with a half to type keywords and another half to select a category from a list box. A customer can also shop by category from the search box.
Moreover, there's an search icon fixed on every page, so that customers can search keywords anytime on any pages they want.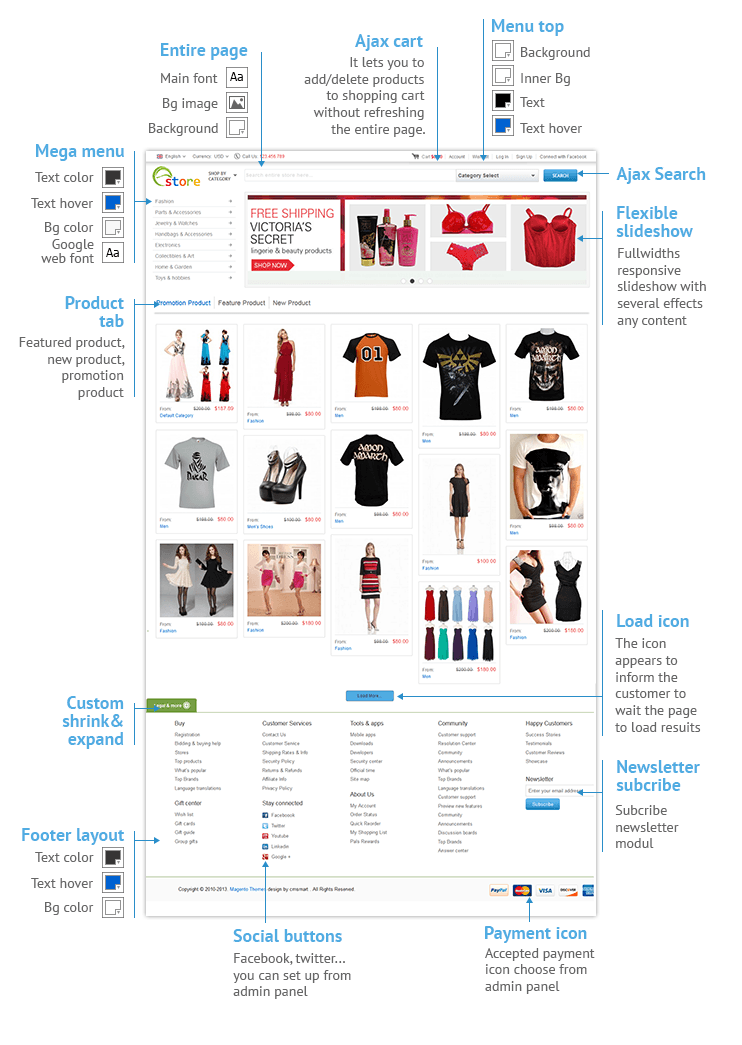 The ajax cart has changed the way people approach their cart. It now can be accessed from any pages with a drop-down list. The easily accessible cart also helps you take such actions as delete or edit right on cart without redirecting you to another. Therefore it saves time loading for both page and clients.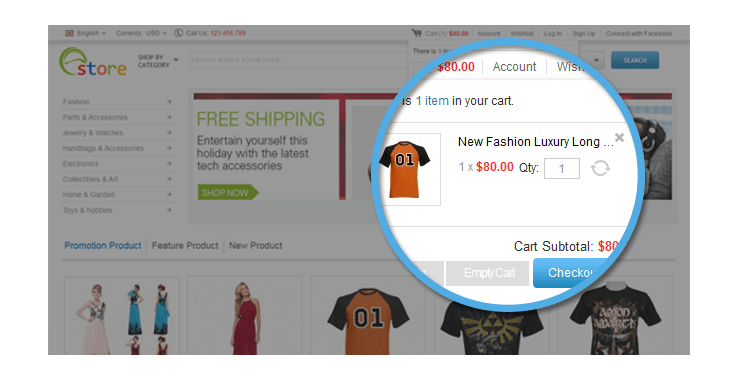 Ajax Search and Auto Complete extension allows users to search products in a search form, using Ajax method for attractive effects and loading results quickly.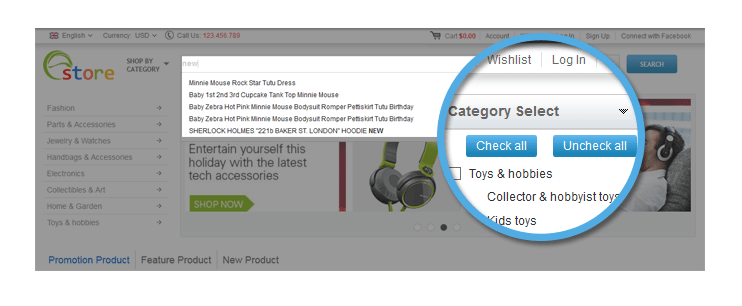 It helps organize your products and categories in the most excellent way. It's safe to say that the optimization of site is the main attention to shop owners and buyers. Mega Menu helps administrators to create professional Magento navigation menu which can display all store catalog information.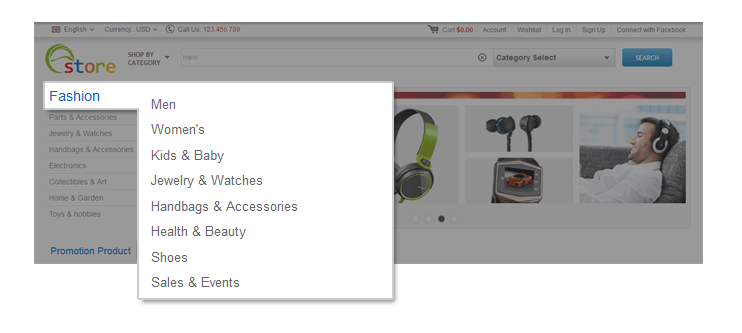 Front page Banners Slideshow with many transformer effects. This module will help shop owners to introduce news special products, events, big sale promotions in a large view and bring the first impression to website visitors.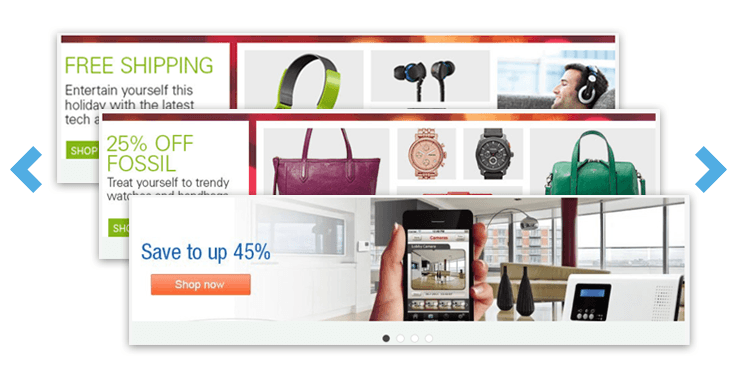 Cmsmart themes use JavaScript Zoom which is the best way for your visitors to be able to zoom the product's image in/out to see details of the product.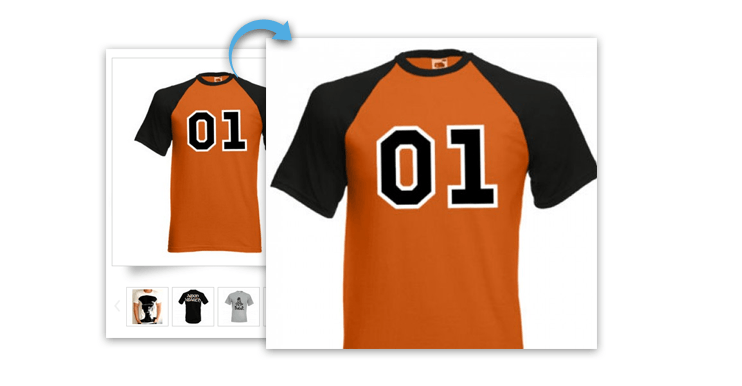 It allows customer to view product information instantly by popup form without leaving page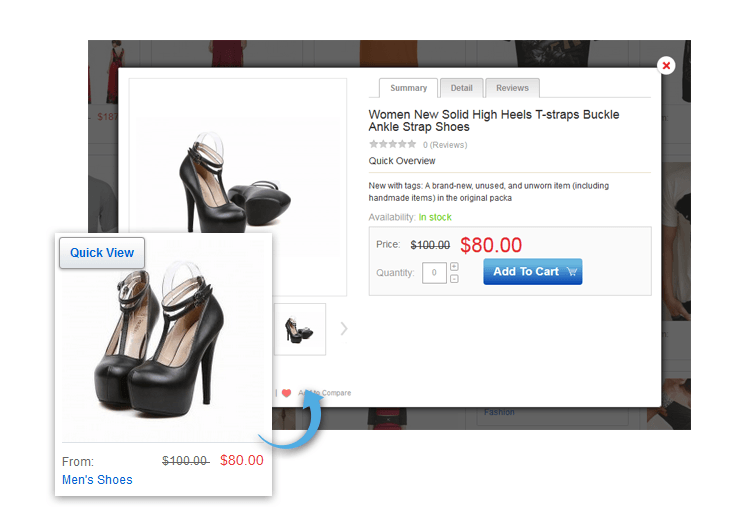 ALL EXTENSIONS INCLUDED
Cmsmart AjaxCart
Cmsmart CustomAttribute
Cmsmart Facebook
Cmsmart Navigation
Cmsmart onestepcheckout
Cmsmart QuickView
Cmsmart Ajaxsearch
Cmsmart News
Cmsmart CloudZoom
Cmsmart Quantity
Cmsmart ThemeSetting
Cmsmart UltraSlideshow
You should buy Mobile theme SEPERATELY
Product Reviews (5) Write a review
Submit your review
First: rate the product. Please select a rating between 1 (poorest) and 5 stars (best)
Become a client on Cmsmart, you are protected strongly with our Client Protection Programe. Especially we built -in a strong Central Ticket Support system to help clients and partners working on the products item support after purchased.
Go to item support
We are happy to provide the customization services to buyer of this product, please submit your request here and we will contact you ASAP
Submit Request Customized
Change log
Updated: 2014, Oct 08
+ Compatible with MCE 1.9.x
+ Improve load speed on site
+ Update License function
Updated: 2014, Sep 08
+ Compatible with MCE 1.5.x - 1.8.x
+ Support Responsive layout
This is a Magento Themes item
Product rating:
|
Write a review
Magento 1.6.x, Magento 1.7.x, Magento 1.8.x, Magento 1.9.2.x, Magento 1.9.x
Why choose
Cmsmart?
Leading in quality and performances
We are proud ourselves to release our quality products to the e-commerce world.
Full solutions for niches industry
We provide many powerful completed Printshop, Multistore marketplace, etc solutions for industry
Excellent support and consultancy
We have a dedicated support team that delivery the excellent support
Private customization for your project
If you don't like our product as it is, you can custom it as you want
Long-term partnership care
We also want to have a long-term partnership with customer to support and take care