If you are looking for a modern and fast loading Magento theme which gives your website a fresh look, Magento Fashion Theme will be considered as one of the best choice for your online fashion shop. It is such a marvel that both you and customers are impressed by the best collection of products which can be a bomb.
Our Magento Fashion Theme has been designed to highlight all featured products with icons and their glorious images. The layout is lightweight thanks to an effective combination of colors and texts. Besides, we will supply you eye-catching themes with PSD files which are to edit the theme. Customers are definitely pleased with a friendly online interface and modern features optimizing your online fashion shop the best ever along with a stable quality and high speed. Our theme is an excellent reflection of your magnificent products.
Note: You have to buy Magento Mega Menu Extension, Ajax cart pro, Quickview extension, One step checkout extension, Magento color swatch with zoom extension SEPERATELY and Install theme with Theme.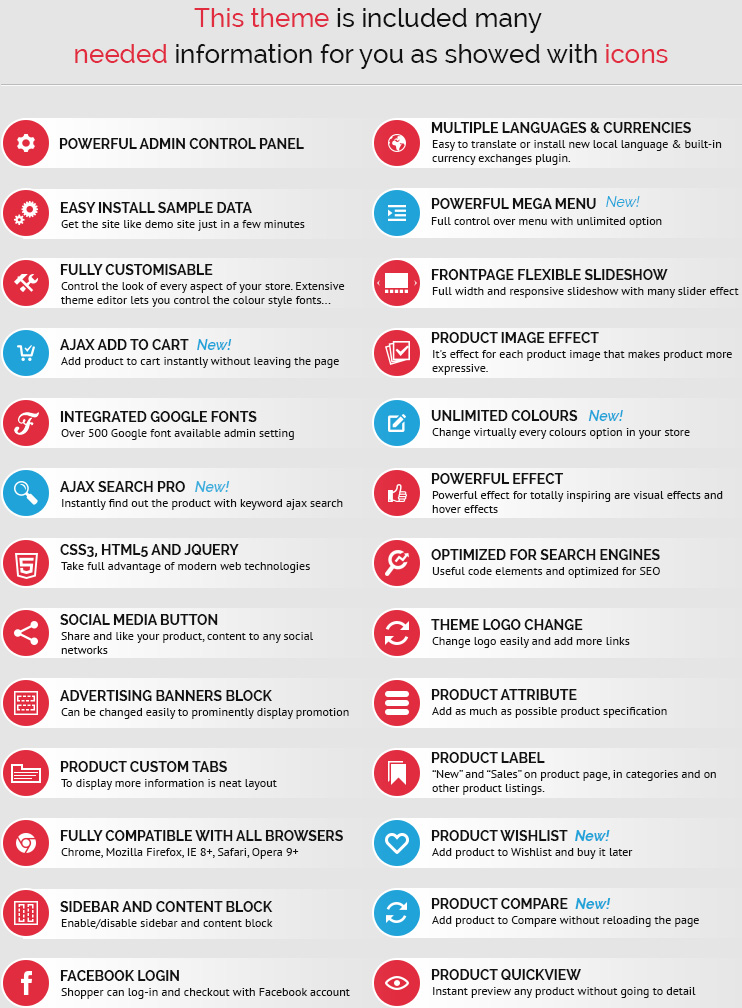 Category Grid & List
Header is elegantly designed with nice logo. User can flexibly select log-in styles, search box position, languages and currencies bar…with 2 layout styles. Especially, you can enjoy the quick log-in and register through pop-up window without taking time for another page.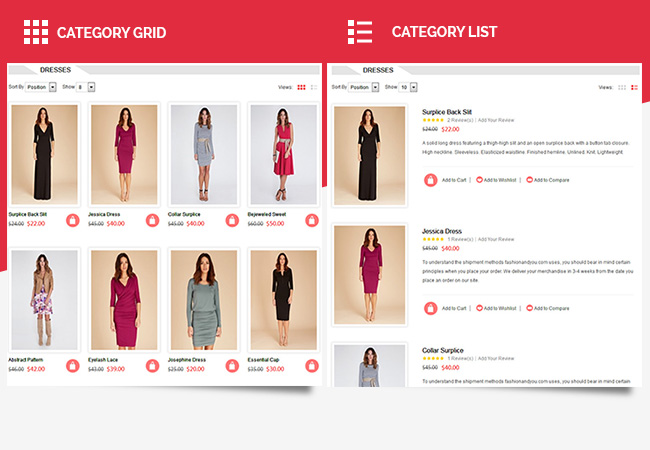 Ajax Search
Ajax Search and Auto Complete extension allows users to search products in a search form, using Ajax method for attractive effects and loading results quickly.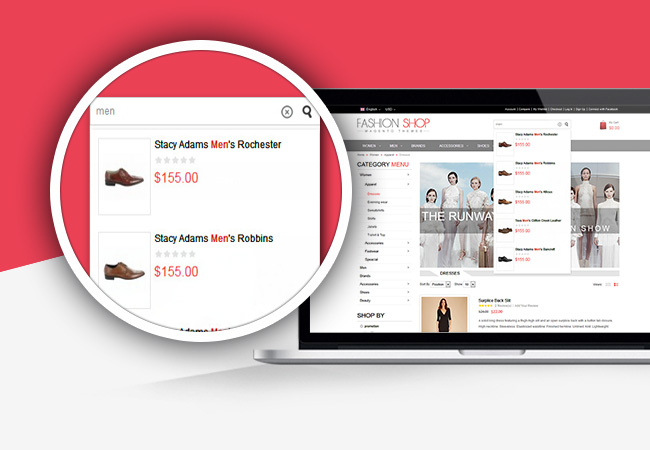 Module Quick View
Your customer can easy have quick review of product detail when they are browsing the product listing page. The quick view functions will not only reduce the shopping time but also will bring the convenient experience to shopper.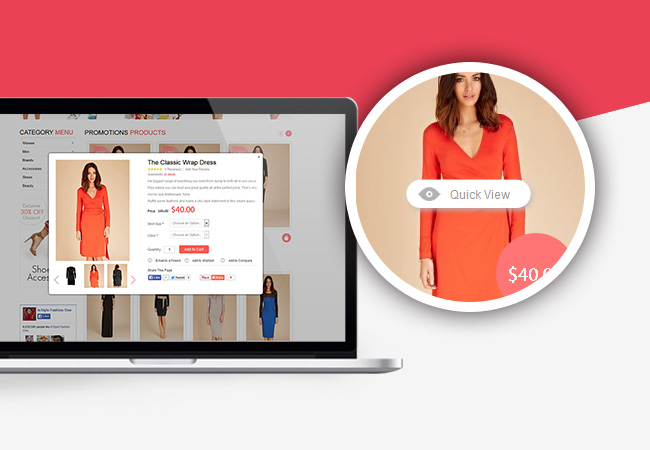 Ajax Cart
Allows customers to instantly add or check product without leaving the page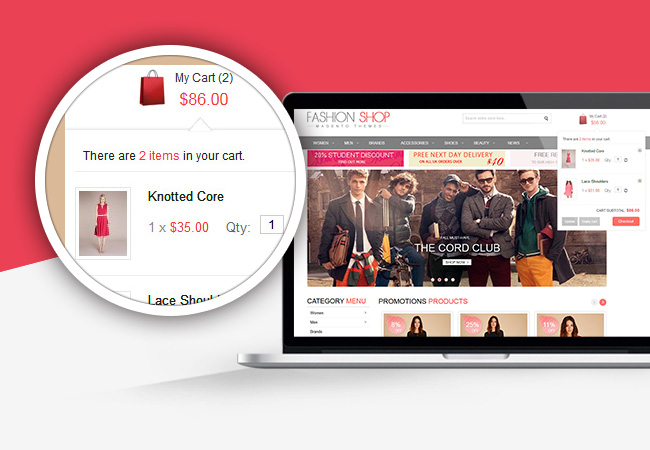 Zoom Images
Cmsmart themes use JavaScript Zoom which is the best way to your visitors can zoom the product's image in/out to see details of the product.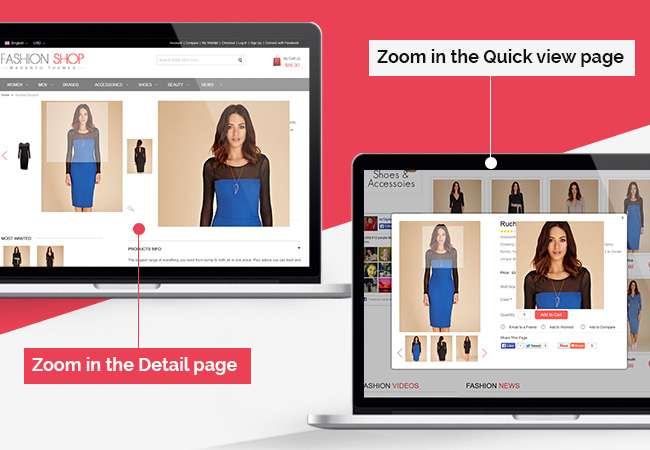 Dropdown Menu
Dropdown menu style which is attached images with Multiple Columns allows you to display a lot of product ranges on a menu bar. Your customer easily access products and categories just by hovering over the menu.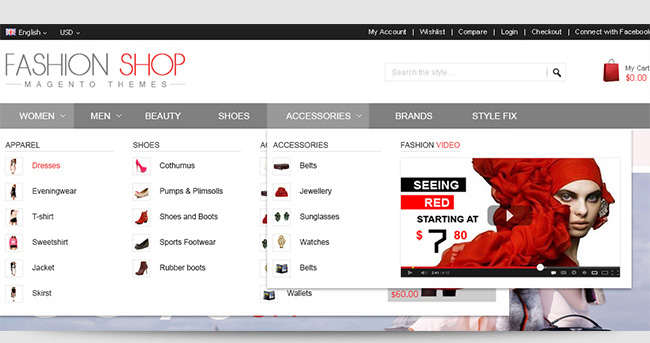 Slideshow
It is really impressive images with lively effect, and promotion information to focus on customer's attention on your website at first sight.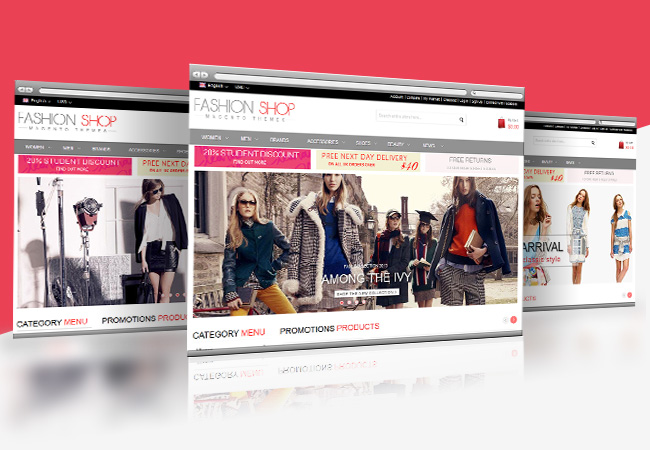 Multiple Language, Currency
Whatever countries you comes from, we can meet your requirements of languages of languages and currencies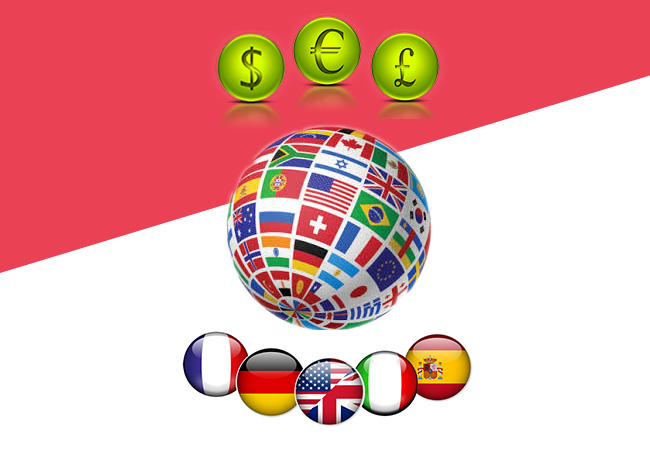 This is a Magento Themes item
Product rating:
Magento 1.8.x, Magento 1.9.2.x
Why choose
Cmsmart?
Leading in quality and performances
We are proud ourselves to release our quality products to the e-commerce world.
Full solutions for niches industry
We provide many powerful completed Printshop, Multistore marketplace, etc solutions for industry
Excellent support and consultancy
We have a dedicated support team that delivery the excellent support
Private customization for your project
If you don't like our product as it is, you can custom it as you want
Long-term partnership care
We also want to have a long-term partnership with customer to support and take care
Changelog
See our changelog below to update your site better
Compatible with: Magento 1.8.x, Magento 1.9.2.x
Version 2.0 Updated: 2014, Oct 08
+ Compatible with MCE 1.9.x
+ Improve load speed on site
+ Update License function
Version 1.0 Updated: 2014, Sep 08
+ Compatible with MCE 1.5.x - 1.8.x
+ Support Responsive layout
Our Community
Go to our forum to hear what people discuss and get new info
Ask a question
(7) Reviews
Don't just hear from our side, hear from our beloved customers and try our demo, you will find what they said is true
Bradley D Roth
Submitted:
CMS Mart was very helpful in fixing some issues and modifying their theme to my liking. I highly recommend their themes, and their customer support is very good.
Adam Shah
Submitted:
this theme is as fashion and professional as its name. From my customers' feedback, I know that they are all satisfied and my sale revenue increases as well. Your product is so good thank for your warming support! 5 stars
Joel Pugh
Submitted:
Magento Fashion Theme really enjoy using. Great design, easy to customize and very stylish. I like it.
Couture Glam
Submitted:
This them is truly one of the best well thought out magento them on the market, I LOVE IT!!! I can't wait to purchase all the extension to make it even more amazing. The support is also very good they are just wonderful I had some conflicts with extensions I had in my store and they did not stop until they fixed all the issues, thank you so much for a job well done!!
Gracie Rees
Submitted:
New features of Magento properly updated modern trends, friendly user interface, optimized fashion store helps us to promote products the best way. Fashion is so, luxurious, but also extremely simple, subtle. Thank the developers.
Oliver Duncan
Submitted:
Beautiful design, impressive brings fresh look and many useful extension for my online store, I like this theme.
Grace Tucker
Submitted:
Beautiful interface better than expectations, the fashion pack with all the shopping features, user friendly. It is wonderful and interesting.
Customization Request & Contact Us
Please fill out the customization request form if you need any
Ms.Janet Tran
Skype: janet.tran.92
WhatsApp: +84 963 296 509
Email: [email protected]
Mr. Vincent Ray
Skype: live:vincent_4281
WhatsApp: +84 978 847 058
Email: [email protected]
WE ARE IN LOVE WITH CLIENT
Recently, we discovered how client loving working with us by their 5 star recommedation

Top