When comes to a garden tool store, the first thing you catch is a lot of tools and equipments displayed on shelves without any instruction or introduction. You will find out it's annoying and inconvenient when you have to ask shopper for price and details of every product that you may not purchase. These reasons can stop clients exploring your products unless your store is highly interactive.
Magento Garden Theme is well-arranged with the perfect combination of interface design and functional features making the theme be tidy and fascinating. The theme greatly enhances the function of managing user menu by using pop-up instead of new page before. Actions are also minimized with hover effects applied to language, currency converter, photo gallery, quick view, zoom-in…
This theme also helps your customers to get a closer approach to product by using a full-width lively slideshow and vertical promotional banners. Obviously, people will get ideas through images easier than words, so the Magento Garden Theme is designed with powerful mega menu that enlarged its capacity. More custom blocks help to enrich the web's content making it be informative with blog, news, articles or photo gallery…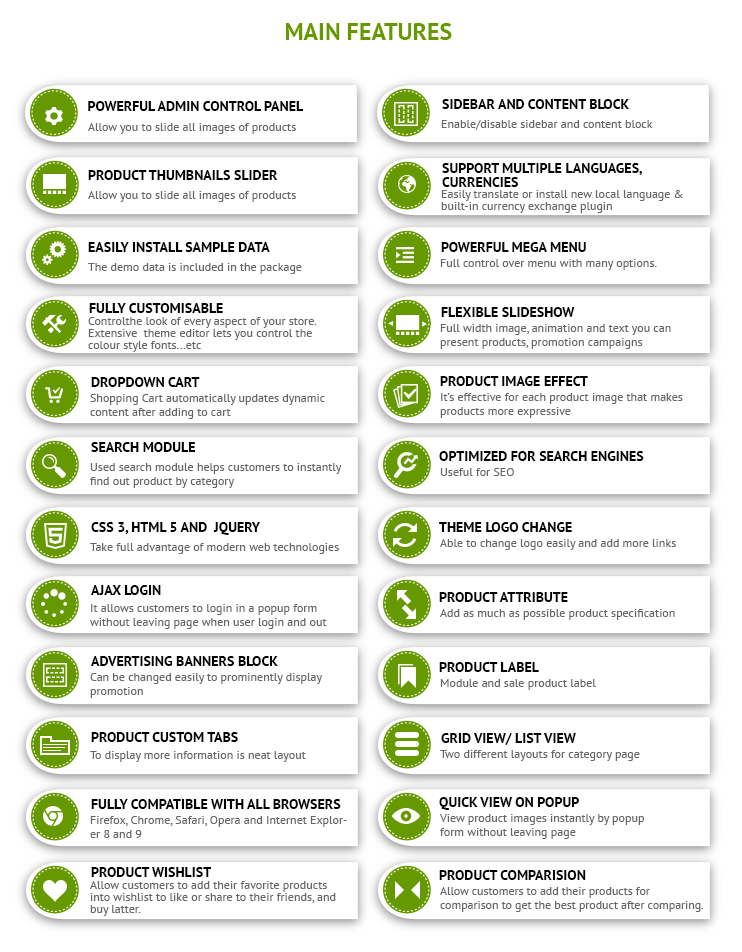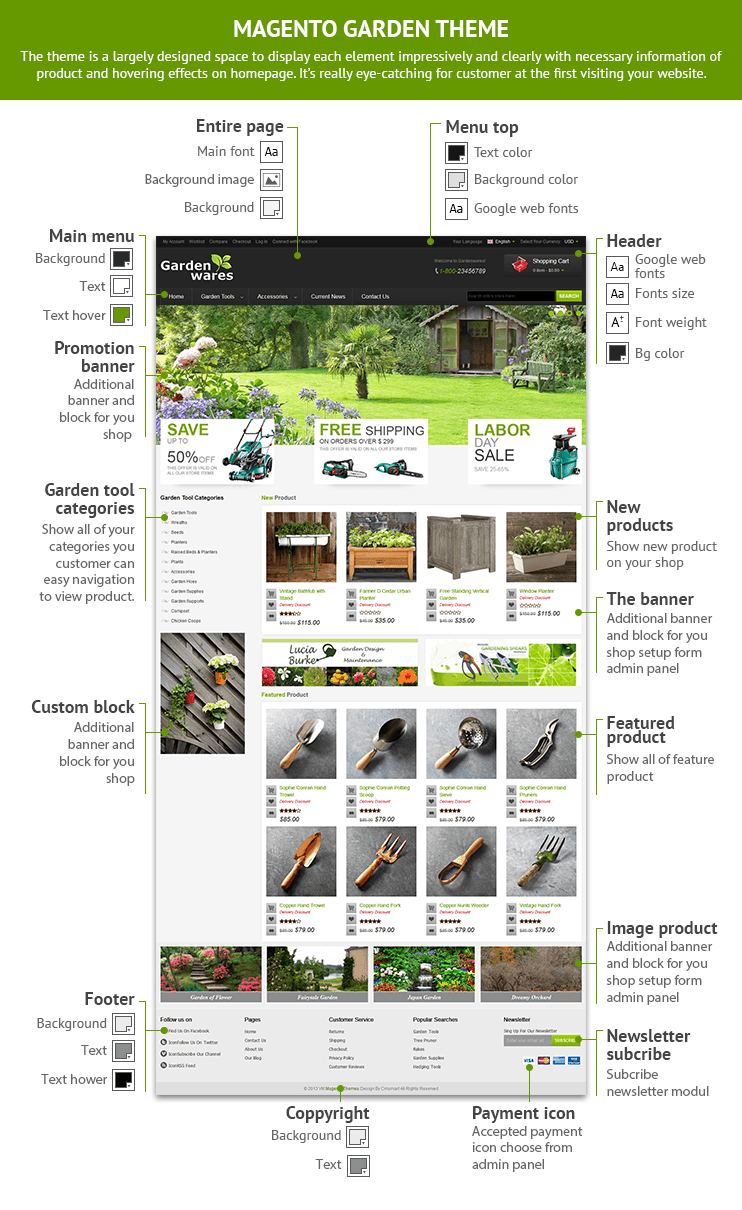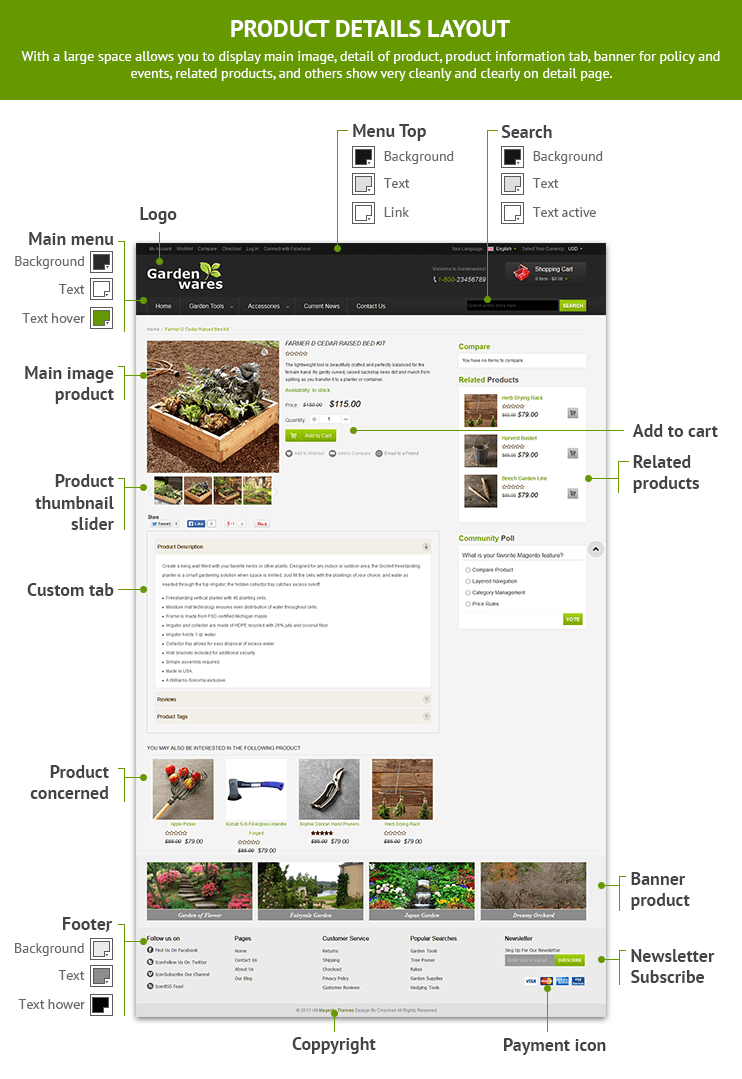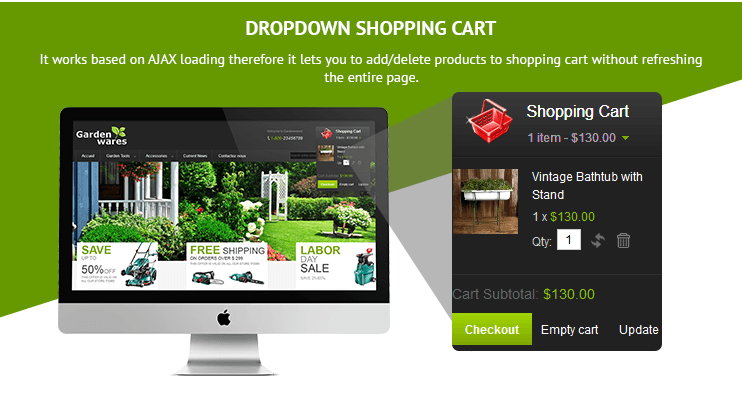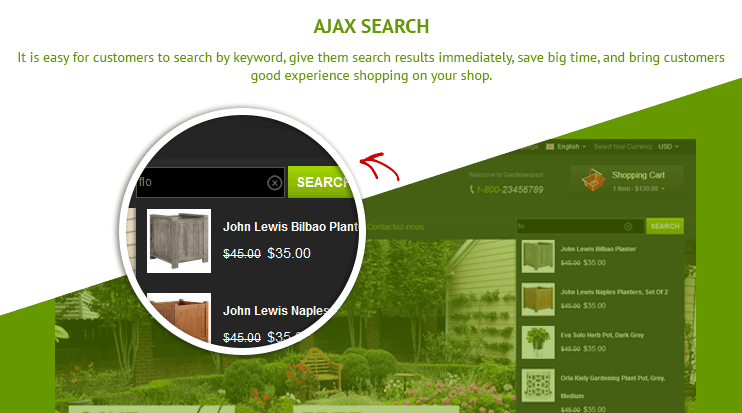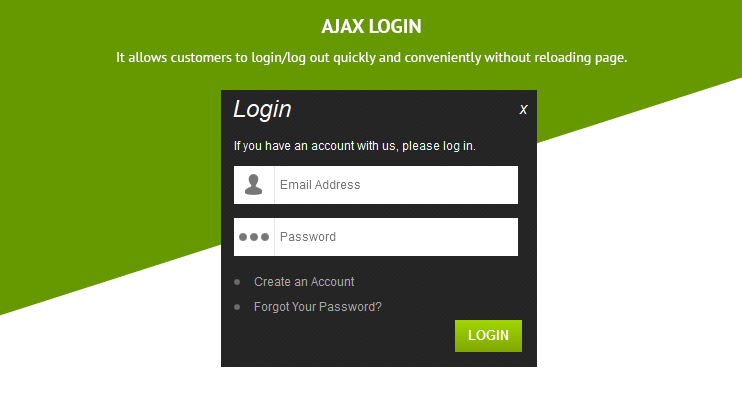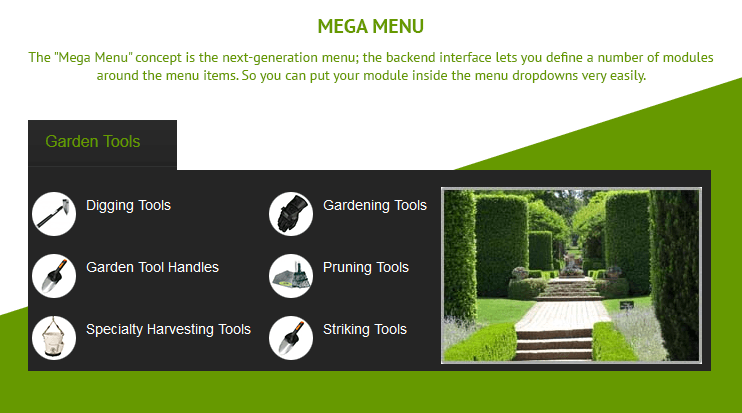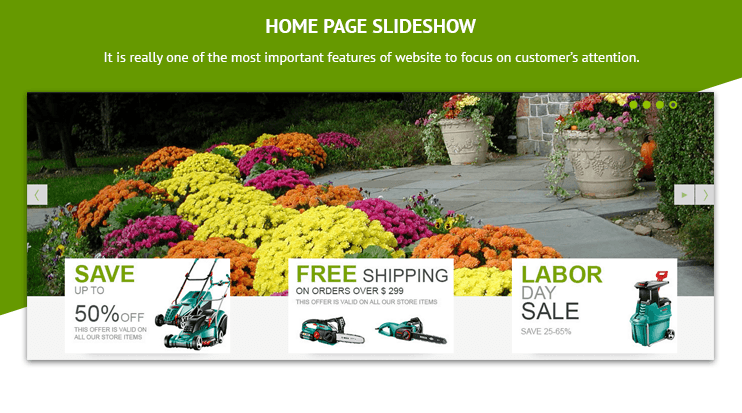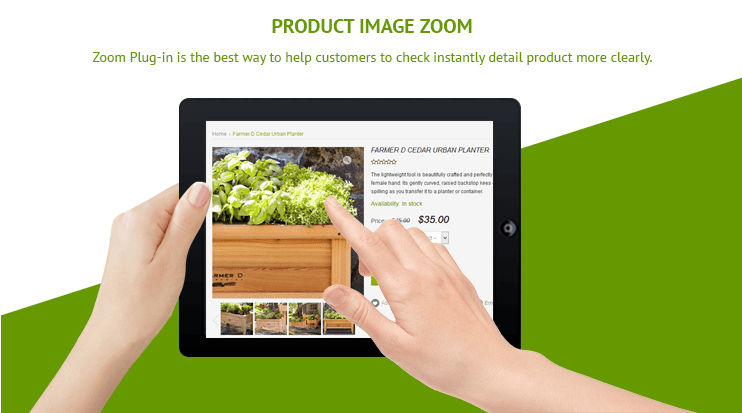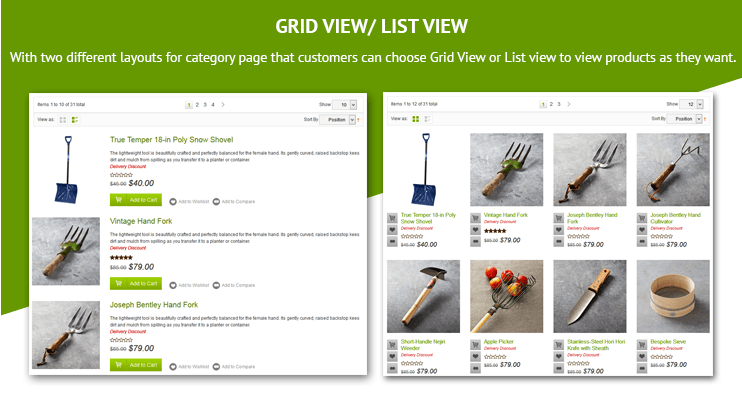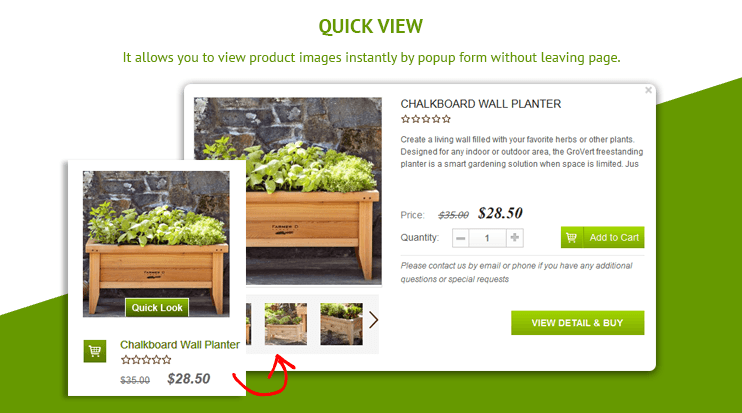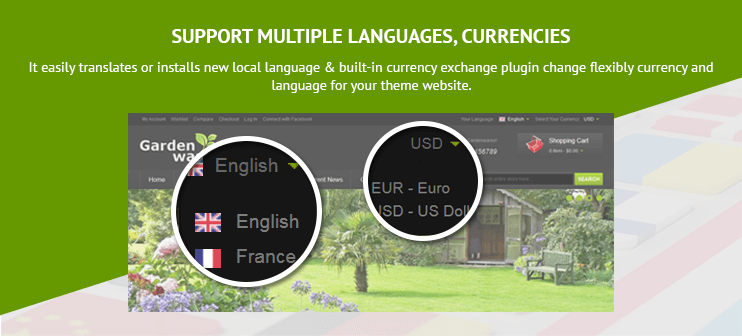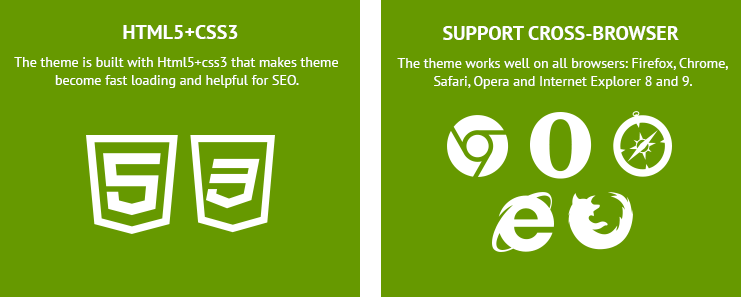 All Extensions Included
Cmsmart Ajax Cart
Cmsmart Ajax search
Cmsmart CloudZoom
Cmsmart Custom Attribute
Cmsmart Facebook
Cmsmart Megamenu
Cmsmart Navigation
Cmsmart News
Cmsmart one step checkout
Cmsmart Quantity
Cmsmart Quick login
Cmsmart Quick View
Cmsmart Theme Setting
Cmsmart Ultra Slideshow
You must buy Mobile theme SEPERATELY.
This is a Magento Themes item
Product rating:
Magento 1.6.x, Magento 1.7.x, Magento 1.8.x, Magento 1.9.2.x, Magento 1.9.x
Why choose
Cmsmart?
Leading in quality and performances
We are proud ourselves to release our quality products to the e-commerce world.
Full solutions for niches industry
We provide many powerful completed Printshop, Multistore marketplace, etc solutions for industry
Excellent support and consultancy
We have a dedicated support team that delivery the excellent support
Private customization for your project
If you don't like our product as it is, you can custom it as you want
Long-term partnership care
We also want to have a long-term partnership with customer to support and take care
Changelog
See our changelog below to update your site better
Compatible with: Magento 1.6.x, Magento 1.7.x, Magento 1.8.x, Magento 1.9.2.x, Magento 1.9.x
Version 2.0 Updated: 2014, Oct 08
+ Compatible with MCE 1.9.x
+ Improve load speed on site
+ Update License function
Version 1.0 Updated: 2014, Sep 08
+ Compatible with MCE 1.5.x - 1.8.x
Our Community
Go to our forum to hear what people discuss and get new info
1 reply , last by Sophia about
Ask a question
(4) Reviews
Don't just hear from our side, hear from our beloved customers and try our demo, you will find what they said is true
Marion C. McPherson
Submitted:
Beautiful theme with so many options. Easy to use, very user friendly and they are quick to address if there is any problem happening (which are very rare). They have great product. I'm very happy with this theme.
sarath
Submitted:
Template Design is good.

Support is fast and solutions provided by them are good.

Overall it is fine.
Spencer Holloway
Submitted:
This theme helps me introduce better products to my customers through the window pop up, highly interactive with many useful extensions. All my problems were solved, great support services from Cmsmart.
Yasmin Wood
Submitted:
This theme is the perfect combination of interface design and useful features needed for my online store. Thank the developers.
Customization Request & Contact Us
Please fill out the customization request form if you need any
Ms.Janet Tran
Skype: janet.tran.92
WhatsApp: +84 963 296 509
Email: [email protected]
Mr. Vincent Ray
Skype: live:vincent_4281
WhatsApp: +84 978 847 058
Email: [email protected]
WE ARE IN LOVE WITH CLIENT
Recently, we discovered how client loving working with us by their 5 star recommedation

Top