Magento Pet Store Theme has the latest style and impresses with high quality catchy photography. Big-eyed puppies and cute kittens make pet owners stop and take notice. Our Magento template is designed to capture the aura of a site devoted to animals. Because of the brilliance and lovely, we use them as a dominant color for pet store.
There are also many features that help you better manage your store. You can shorten the gap with customers through the impressive images and brand slider, cloud zoom javascript effect, Ajax Add to Cart. Slider and banners advertise the best pet products. Trustworthy pet brand logos separate content area from footer. Mega menu has drop down option. Social icons can be found in the footer. With amenities and smart design, the theme maintains cleanliness, and friendly to you and your customers.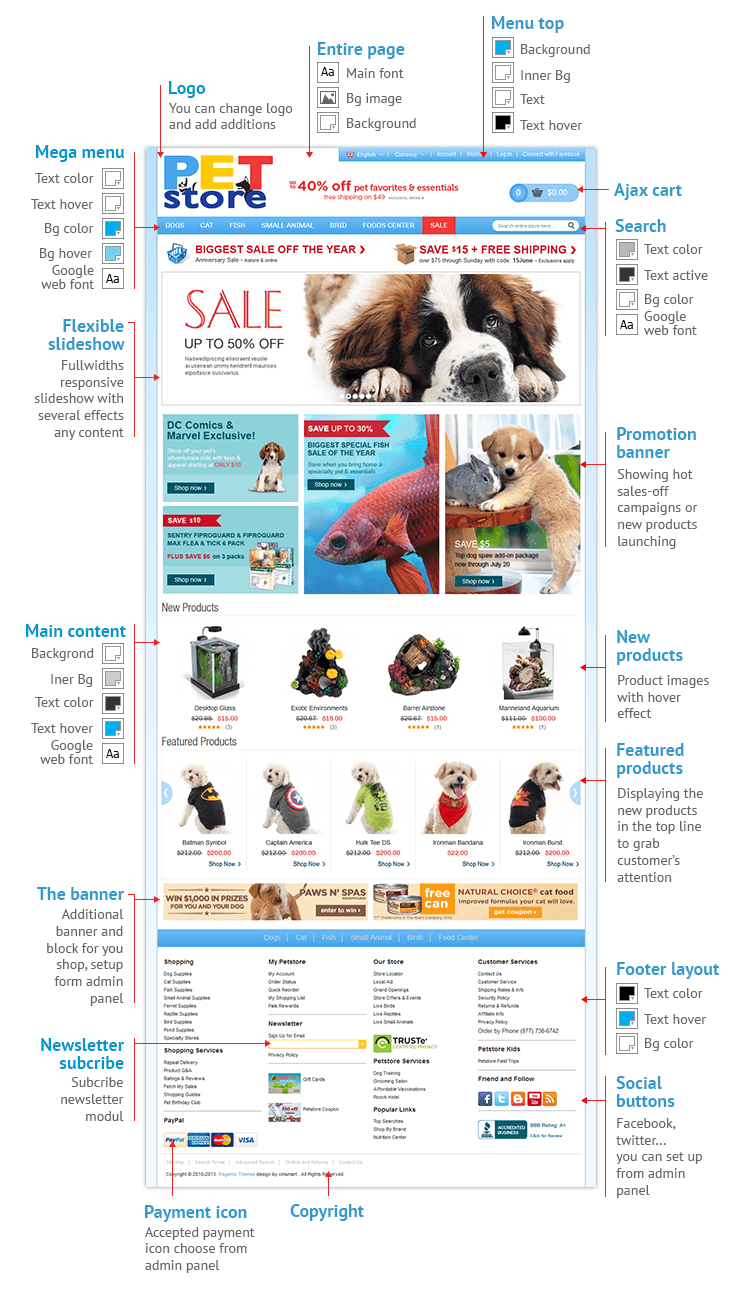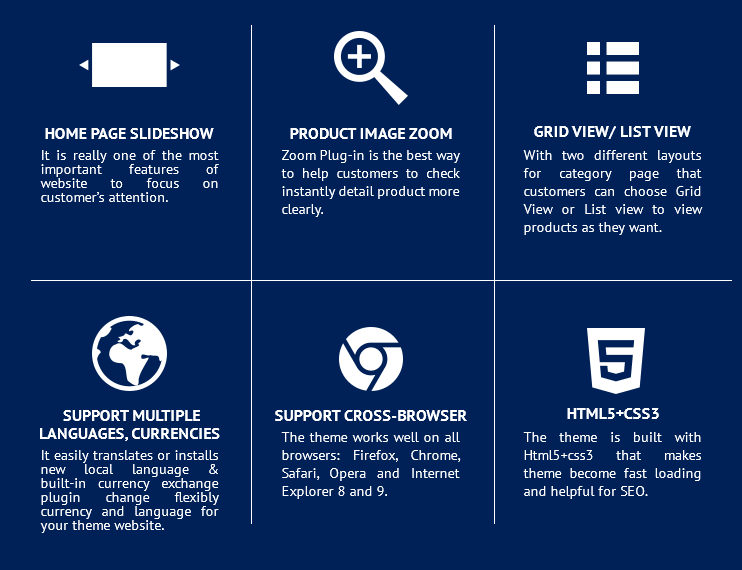 This is a Magento Themes item
Product rating:
Magento 1.6.x, Magento 1.7.x, Magento 1.8.x, Magento 1.9.2.x, Magento 1.9.x
Why choose
Cmsmart?
Leading in quality and performances
We are proud ourselves to release our quality products to the e-commerce world.
Full solutions for niches industry
We provide many powerful completed Printshop, Multistore marketplace, etc solutions for industry
Excellent support and consultancy
We have a dedicated support team that delivery the excellent support
Private customization for your project
If you don't like our product as it is, you can custom it as you want
Long-term partnership care
We also want to have a long-term partnership with customer to support and take care
Changelog
See our changelog below to update your site better
Compatible with: Magento 1.6.x, Magento 1.7.x, Magento 1.8.x, Magento 1.9.2.x, Magento 1.9.x
Version 2.0 Updated: 2014, Oct 08
+ Compatible with MCE 1.9.x
+ Improve load speed on site
+ Update License function
Version 1.0 Updated: 2014, Sep 08
+ Compatible with MCE 1.5.x - 1.8.x
+ Support Responsive layout
Our Community
Go to our forum to hear what people discuss and get new info
3 replies , last by Silas about
Ask a question
Customization Request & Contact Us
Please fill out the customization request form if you need any
Ms.Janet Tran
Skype: janet.tran.92
WhatsApp: +84 963 296 509
Email: [email protected]
Mr. Vincent Ray
Skype: live:vincent_4281
WhatsApp: +84 978 847 058
Email: [email protected]
WE ARE IN LOVE WITH CLIENT
Recently, we discovered how client loving working with us by their 5 star recommedation

Top