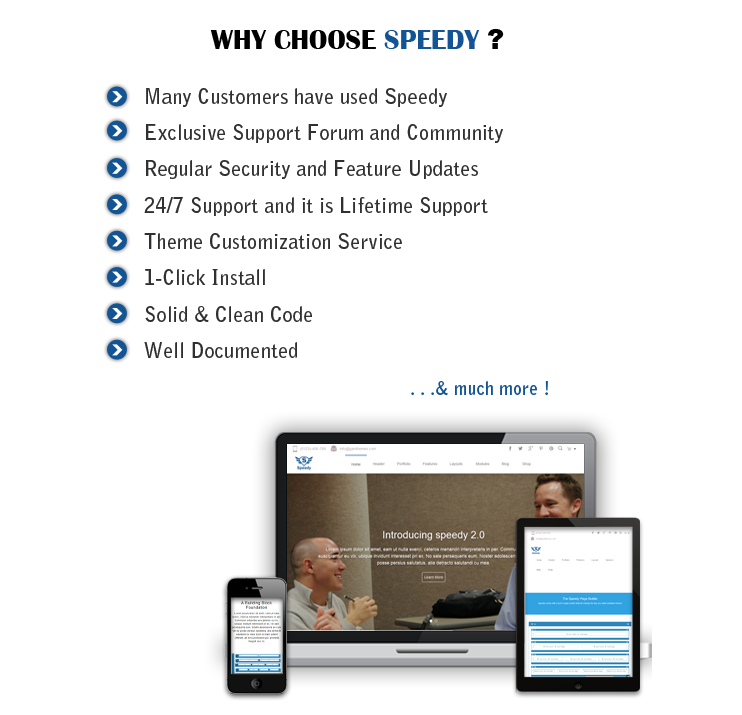 Powerful Page Builder
Speedy Theme has rich options and settings to control all aspects of it -- from its Styles and Skins to its Sliders -- and it's fully extended with a unique and powerful Page Builder.
Powerful Unique Page Builder with huge and very advance numbers of Shortcodes including +30 different styles of posts modules.
Speedy Theme is meant on both users with no programming background as well as advanced developers.
It will let you build and make your site in no time, with negligible attempt.This theme features a powerful admin panel on the WordPress backend that has the flexibility to let you use this theme for corporate websites, blogs, portfolios, magazine sites and more.Using this theme adjust general settings such as color schemes; upload custom logo images and much more. You also choose any fonts from unlimited fonts, including Google Font Directory and Cufon fonts.Manage your titles, keywords and description meta tags, as well as canonical URLs for your homepage, posts, pages and categories.You can completely change the look and fill of your site in seconds.
Search Engine Optimization
SEO has been made a high priority when developing the GAM Framework theme. In the code hierarchy, the main content block is placed before the sidebar regardless of the sidebar position, so it is crawled first by search engines.Another very powerful SEO feature has been implemented regarding Heading (h1, h2,…) tags in the Home page the 'h1' tag is assigned to the site name and the rest of pages/posts/archives/blog section etc., the main page title has been assigned an 'h1' tag.
Responsive & Mobile Ready!!!
Speedy theme is fully responsive hence it perfectly fit to any screen and your desktop monitors, mobile phones, laptops, tablets, iPads, or any other devices.Our theme is optimized in a best way and hence it loads everything very quickly on any devices.
...What Our Customers Say...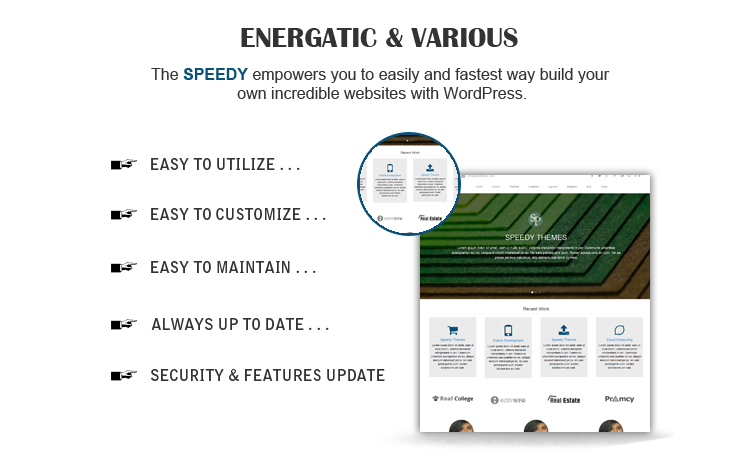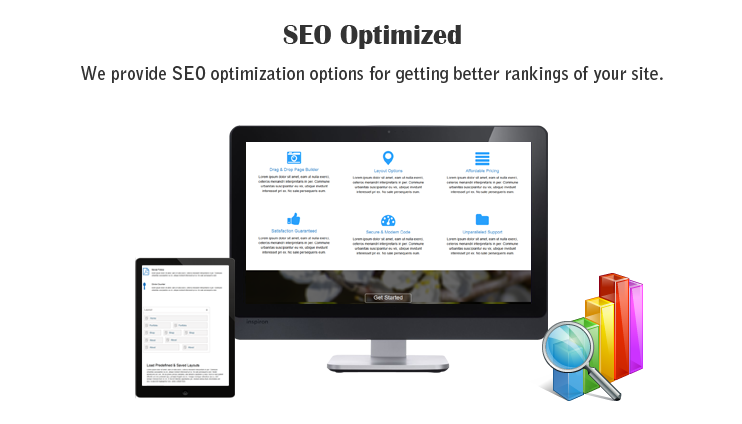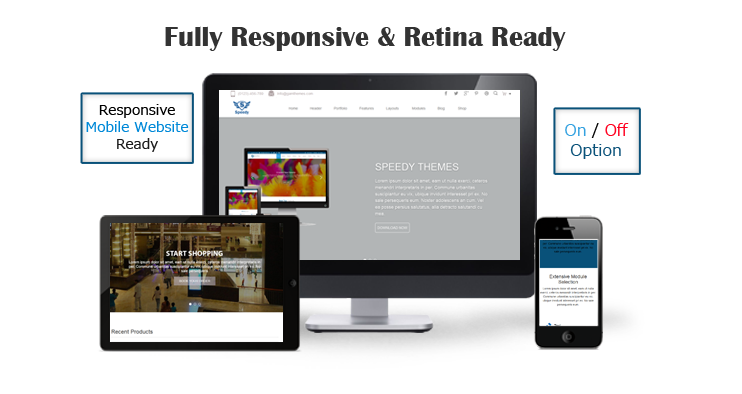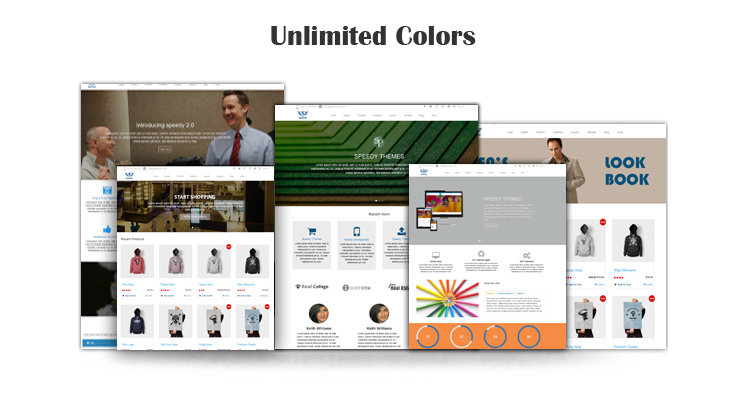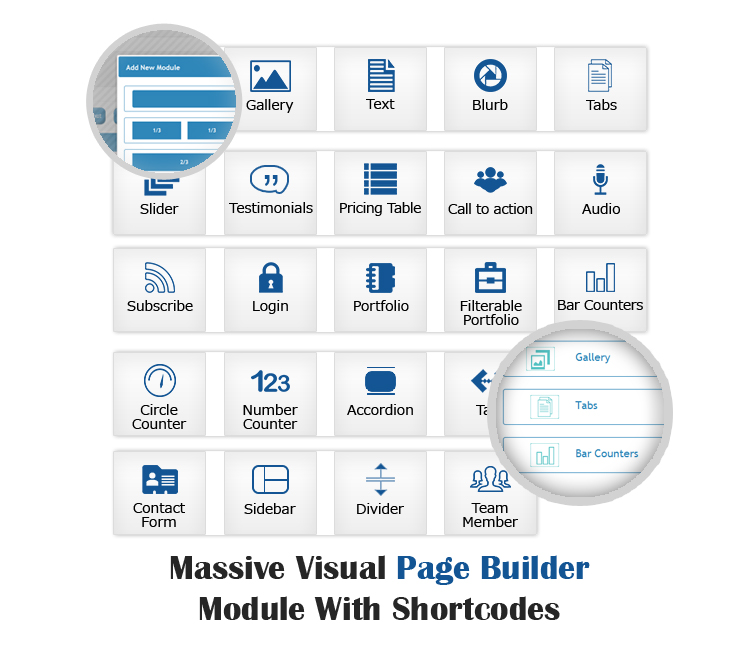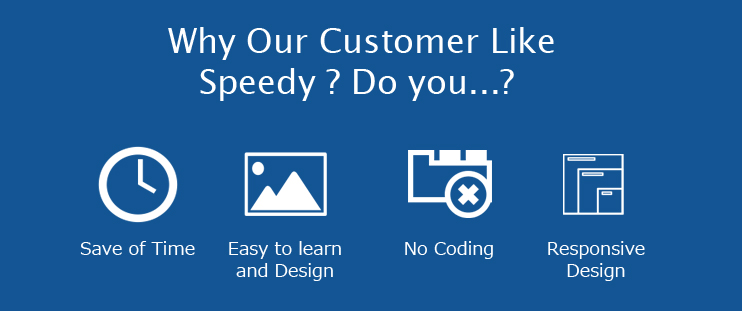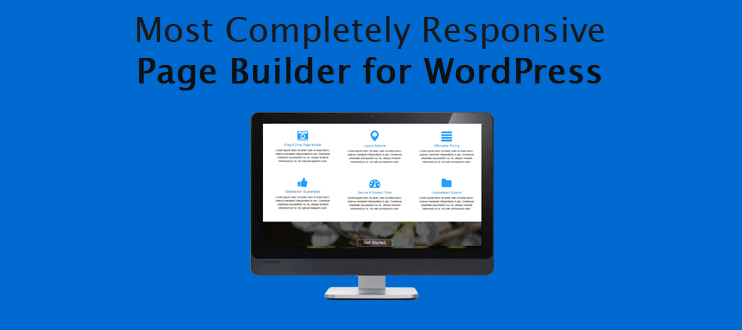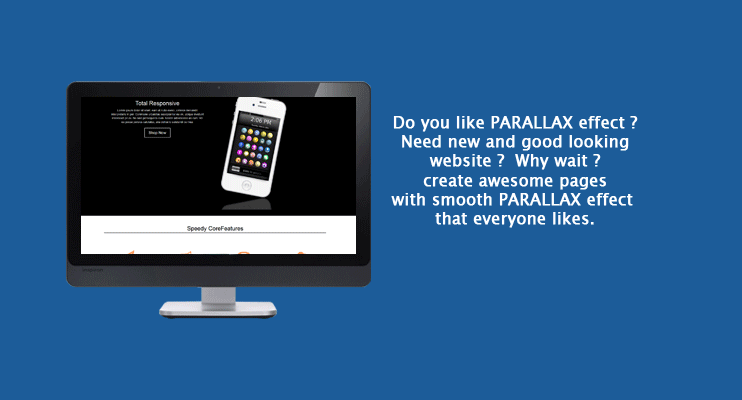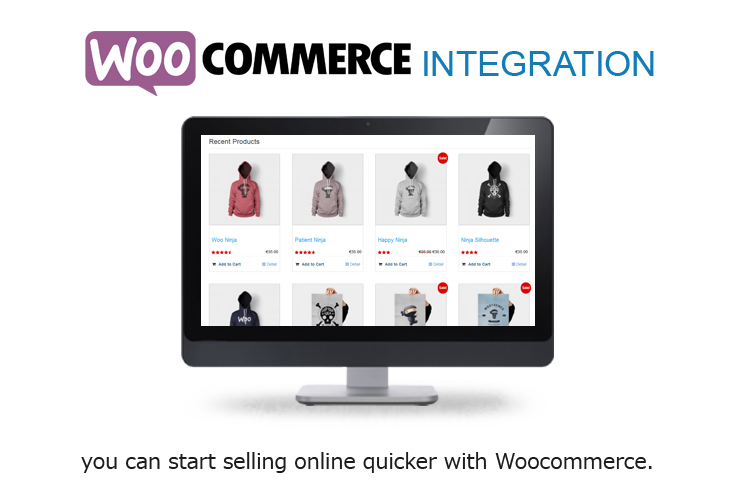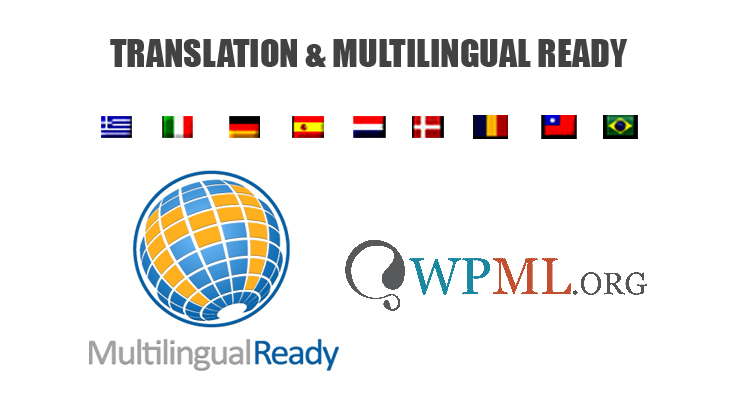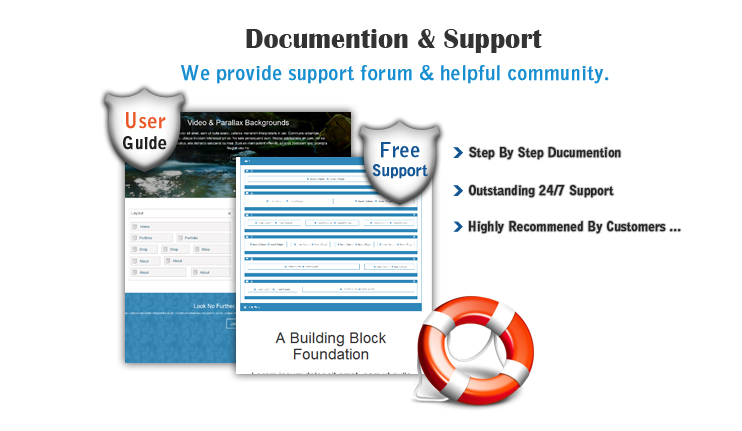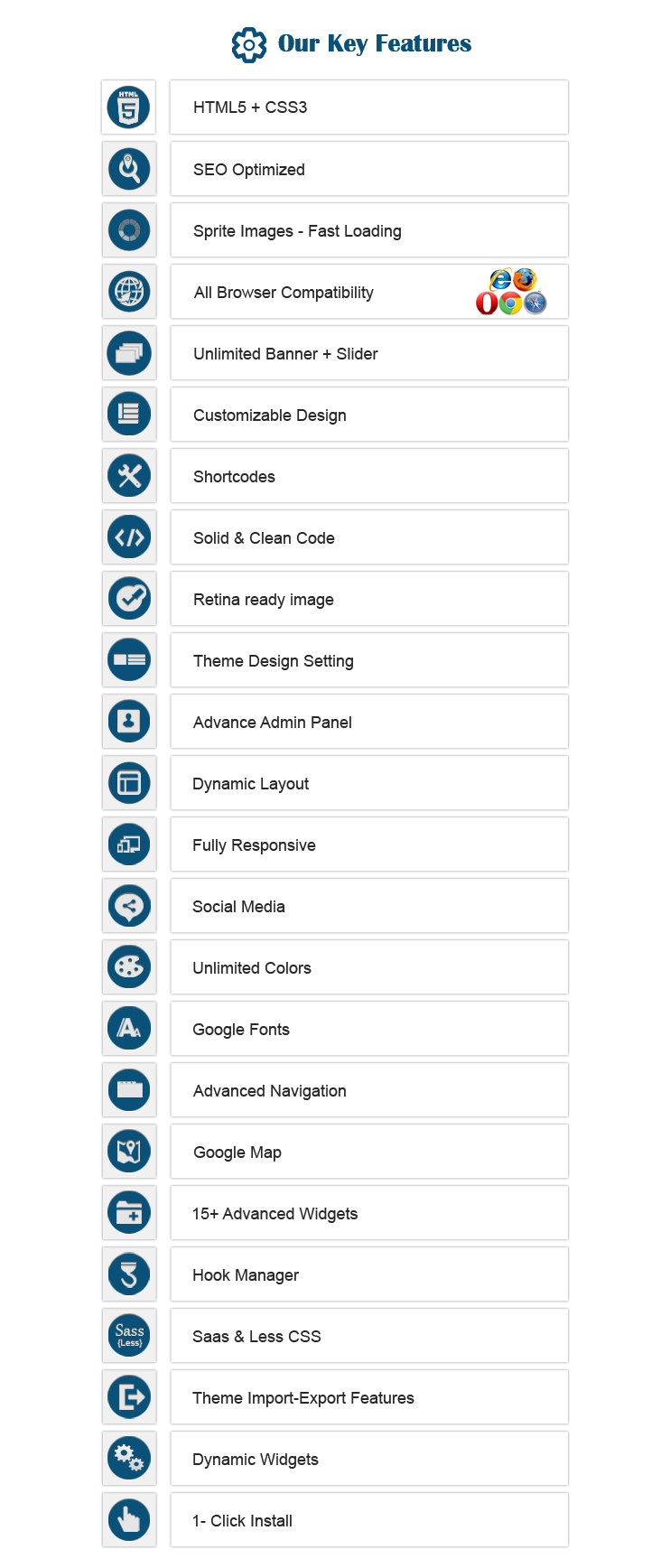 Key Features
HTML5 + CSS3
SEO Optimized
Dynamic Layout
Fully Responsive
ShortCodes
Advance Admin Panel
Social Media
Retina Ready Images
Featured post Slider
WooCommerce Ready
Sprite Images – Fast Loading
All Browsers Compatibility
Customizable Design
Unlimited Colors
Google Maps
Hook Manager
Sass & Less CSS
Dynamic Widgets
Contacts Page Template
Localization Ready
Unlimited Banner + Slider
Advance Navigation
Google Fonts
Theme Design Settings
15+ Advanced Widgets
Theme Import- Export Feature
1- Click Install
Solid & Clean Code
Page Templates
WordPress Compatibility
Drag and Drop Page Builder
30+ Shortcodes
Javascript
We have also included following javascript in our package.
Bootstrap framework (bootstrap.js)
Images loaded (imagesloaded.js)
Class helper functions(classie.js)
Contact Us Validation (contact_me.js)
Carousel Slider (jcarousel.basic.js)
BootstrapValidation (jqBootstrapValidation.js)
Box Slider(jquery.bxslider.min.js)
jQuery Cycle Plugin(jquery.cycle.all.js)
Home Page slider (jquery.flexslider.js)
Fancybox(jquery.fancybox.js)
Gam Framwork Custom (custom.js)
jQuery Nivo Slider(jquery.nivo.slider.js)
jQuery Validation(jquery.validate.js)
Jssor Slider(jssor.slider.js)
Masonry layout(masonry.pkgd.min.js)
Animation on Scroll(AnimOnScroll.js)
IE Html5 Support (html5.js)
Sources & Credits
We've used the following images, icons, fonts or other files as listed.
Documentation & Support
The theme comes with fully well documentation. Free support is offered through an external forum.
Should you have any support related questions please post them to the theme's support forum.
You can subscribe to the Support Forum.
Support for the "Speedy" theme includes:
Responding to questions or problems regarding the theme and its features.
Fixing bugs and reported issues.
Providing updates to ensure compatibility with latest WordPress and other required softwares.
This is a Wordpress Themes item
Product rating:
Download Product
Why choose
Cmsmart?
Leading in quality and performances
We are proud ourselves to release our quality products to the e-commerce world.
Full solutions for niches industry
We provide many powerful completed Printshop, Multistore marketplace, etc solutions for industry
Excellent support and consultancy
We have a dedicated support team that delivery the excellent support
Private customization for your project
If you don't like our product as it is, you can custom it as you want
Long-term partnership care
We also want to have a long-term partnership with customer to support and take care
(8) Reviews
Don't just hear from our side, hear from our beloved customers and try our demo, you will find what they said is true
Ketan
Submitted:
Speedy Theme is one of those theme that can be used for developing any types of website. It's provide great user friendly drag and drop functionality in admin side. so you can easily develop and manage your site using Speedy Theme. Speedy Theme also works with Woo Commerce, so we can develop great shopping cart site and expand our online business. It's work great.
Sunny
Submitted:
Speedy theme is fabulous, amazing, Every word is little for this speedy theme. Drag & drop functionality to create page is very helping .creating website with speedy theme is time saving. WOW....this is the theme i wanted.
jatin
Submitted:
I like Speedy Themes because I build my own website with affordable price and it provides high quality templates and it's fully responsive so I easily make my attractive website . it's drag & drop functionality is amazing.
pritesh
Submitted:
Speedy theme is one of those theme that can be used for developing any types of website. Speedy theme provides good features with responsive so we can easily develope site with in less time without touching any code.
kartik
Submitted:
Speedy WordPress theme is really good and fantastic multipurpose wordpress theme and you can manage easily your site content and create beautiful site with any layout.
Piyush Akbari
Submitted:
Speedy theme is awesome theme,Using Speedy Theme we can create responsive site with high-quality attractive site. it's very easy to use.
shahrukh
Submitted:
Speedy Themes is really high-quality and incredible wordpress theme so you can control easily your site content and make attractive site with any layout. Speedy support woocommerce so we develop great online shopping cart site. It's realy Speedy...
shailesh
Submitted:
Really good I have never seen such beautiful theme , In terms of speed its really faster.Giving images and response in micro seconds. With the help of this we can create a great cart site and a lot more. Really many thanks for giving such a nice theme.
Customization Request & Contact Us
Please fill out the customization request form if you need any
Ms.Janet Tran
Skype: janet.tran.92
Email: [email protected]
Mr. Vincent Ray
Skype: live:vincent_4281
Email: [email protected]
WE ARE IN LOVE WITH CLIENT
Recently, we discovered how client loving working with us by their 5 star recommedation

Top