Magento Quick Login Extension
Magento Quick Login extension helps login procedure as comfortable and fast for customers by showing a login popup
Details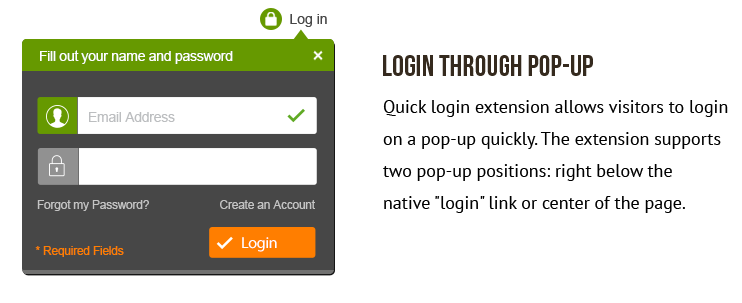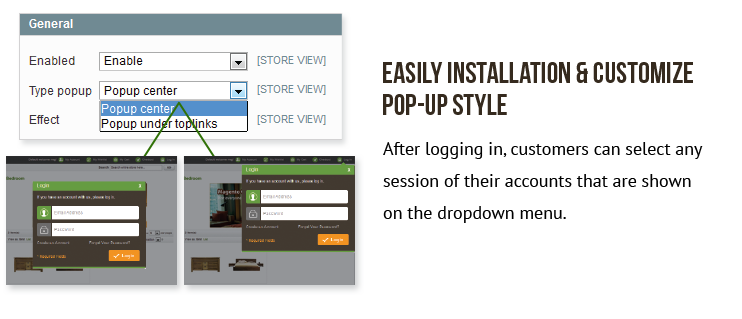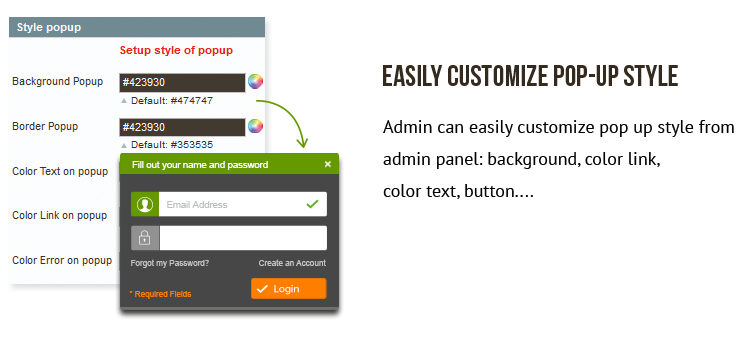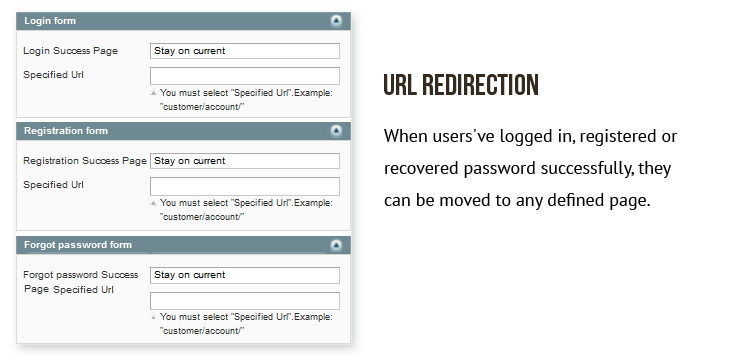 Product Specification of Magento Quick login extension
This Quick Login extension will open as a popup, very convenient for visitors to put data. The popup appears instantly while other sites with the native login can take a while before customers can enter information into the required fields. For old customers, they just click "Login", a nice but friendly popup will appear, they can fill username and password to be accessed their account very quickly.
WHY USE THIS PRODUCT - PRODUCT BENEFIT
Many benefits below are reasons why your website should get it:
Ajax used pop-up registration form
Convenient Registration/login/password reset
Newsletter subscription option
User-friendly frontend layout
Change colors of borders and background
Easy to install
Compatible with the latest Magento CE
HOW IT WORKS FOR CLIENT
Using Magento Quick login extension for customers is easier than ever. See steps below to understand how it works:
Step 1: Click on Login tab.
Step 2: Fill in your account, and then click on Login button.
Step 3: If you don't have an account, click "Create an account" to create your account.
HOW IT WORKS FOR SHOP OWNER
If shop owner have a little knowledge about technology, just follow 6 steps below to see how it works easily
Step1: Install this extension as the user guide.
Step 2: Go to System → Configuration → Cmsmart Extensions → Quick login to setup everything as enable or disable this extension, type popup, background popup. Color text on pop up…
MAIN FEATURES
Login through pop-up: Quick login extension allows visitors to log in on a pop-up quickly. The extension supports two pop-up positions: right below the native "login" link or center of the page
Create the new account through pop-up: Customers can create a new account via popup without loading a new page. Merchants can add Newsletter subscription section into the registration form.
Reset their password: Your customers can reset password via popup without loading a new page
Display "My account" with the dropdown menu: After logging in, customers can select any session of their accounts that are shown on the drop-down menu.
Easily to install & customize popup style: After logging in, customers can select any session of their accounts that are shown on the drop-down menu
Upload icons: Admin can upload a user icon, a password icon to make pop up more lively
URL redirection: When users have logged in, registered or recovered password successfully, they can be moved to any defined page
Product Reviews (5) Write a review
Submit your review
First: rate the product. Please select a rating between 1 (poorest) and 5 stars (best)
Become a client on Cmsmart, you are protected strongly with our Client Protection Programe. Especially we built -in a strong Central Ticket Support system to help clients and partners working on the products item support after purchased.
Go to item support
We are happy to provide the customization services to buyer of this product, please submit your request here and we will contact you ASAP
Submit Request Customized
Change log
Updated: 2015, Dec 25
+ Adding function when click ESC button to exit QuickView screen
+ Ajax used pop-up registration form
+ Change color of borders and backgrounds
+ Easy to install
+ Fix bug break form when continue shopping in cart page
Updated: 2015, Jan 23
+ Compatible with Magento CE 1.9.x
+ Re-arrange folder structure
+ Upgrade the latest jQuery library, use the same jQuery library and selector
# Fix error of display
# Fix function of using default icon
Updated: 2014, Sep 08
Compatible with Magento CE 1.5.x - 1.9.x
This is a Magento® Extensions
Product rating:
|
Write a review
Magento 1.6.x, Magento 1.7.x, Magento 1.8.x, Magento 1.9.2.x, Magento 1.9.x