Need an elegant design to raise your online wine store to a higher level and leave your competitors far behind? Take advantage of our Wine Store Theme which tempts visitors to make a purchase.
This theme has been very carefully considered by our professional designers. The design has luxury and classic elegance. Products are categorized in groups and attractive features to your customers such as new products, best seller products, featured products, special products. Main banner and sub banners are suitable on great graphics.The titles, smart labels and menu bar have fancy designs for royal styles. Customers can easily purchase, payout and view products anywhere in your store thanks to excellent supports of the image slideshow with 20+ transitions effects, Ajax Cart, Mega menu - Multiple columns menu, Ajax-view product, Product image JQuery cloud-zoom,...
It's easy for you to add up sell and cross sell items in order to increase sales. There are plenty of widgets like social media, contact us links, etc. Choosing the theme to sell wine products is an ideal choice.
You have to buy Magento Mobile Theme seperately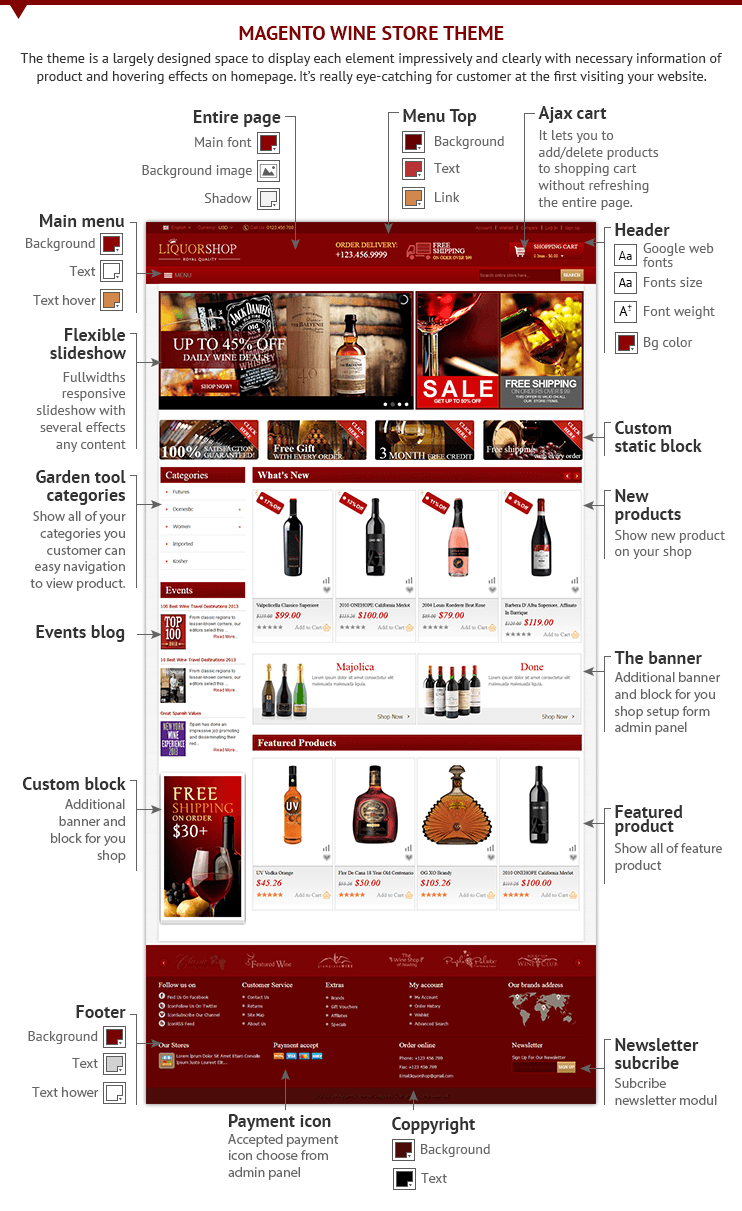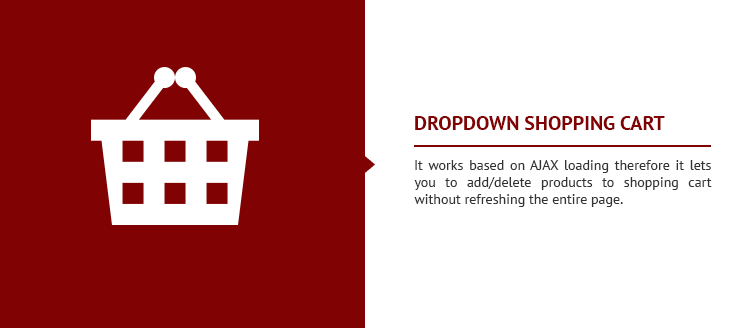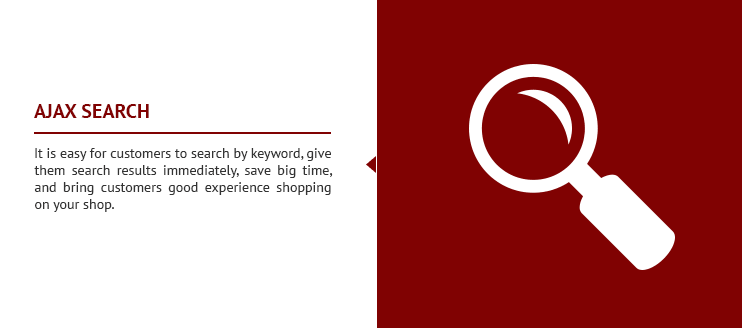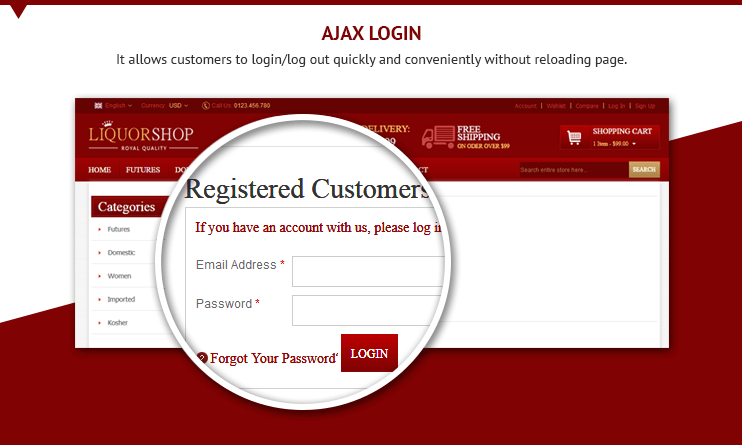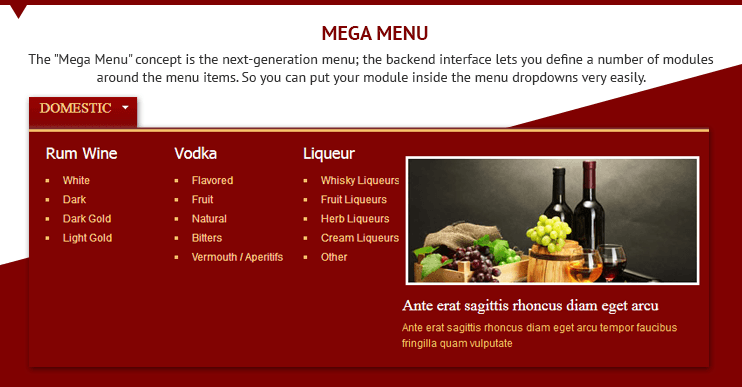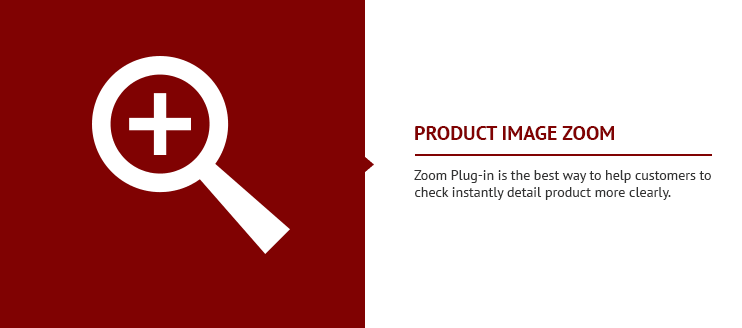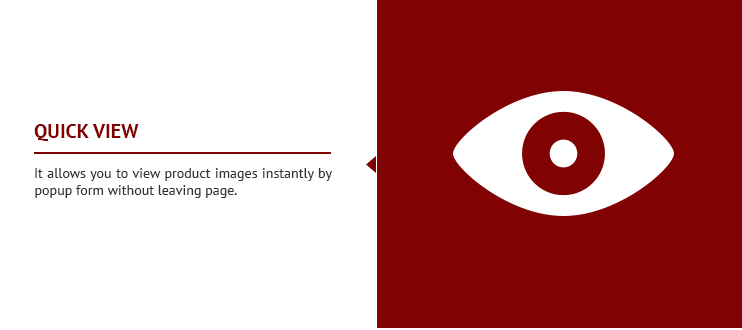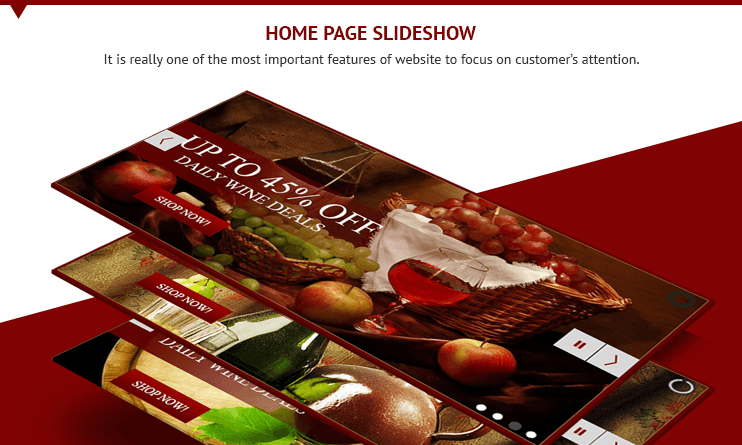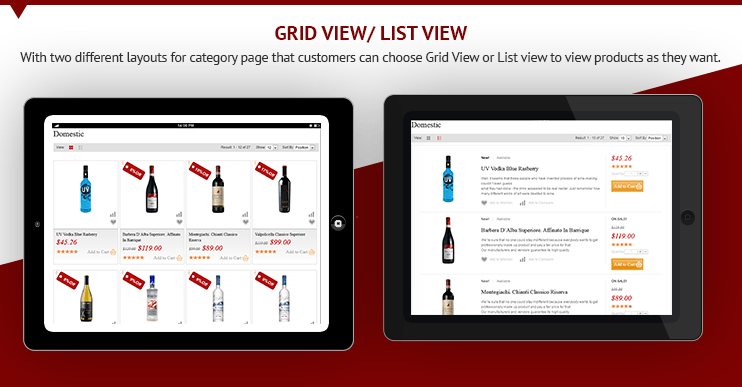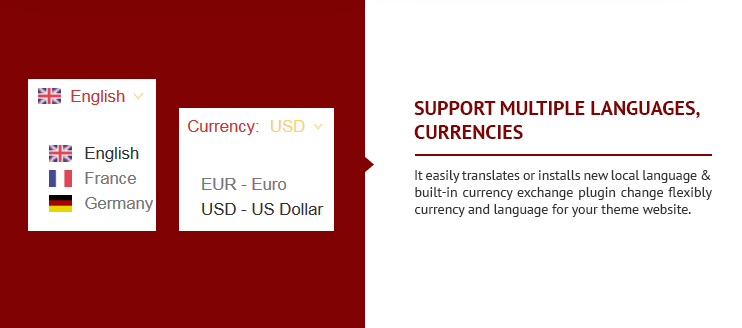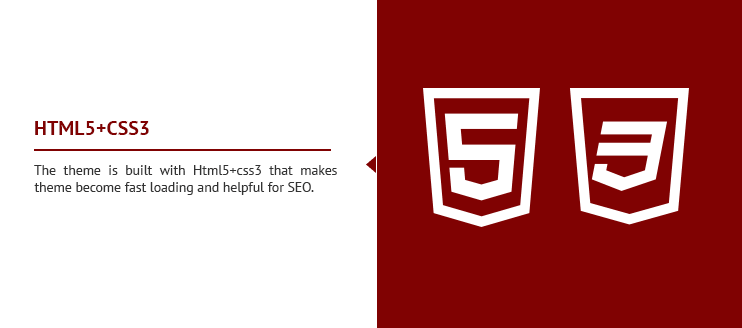 This is a Magento Themes item
Product rating:
Magento 1.6.x, Magento 1.7.x, Magento 1.8.x, Magento 1.9.2.x, Magento 1.9.x
Why choose
Cmsmart?
Leading in quality and performances
We are proud ourselves to release our quality products to the e-commerce world.
Full solutions for niches industry
We provide many powerful completed Printshop, Multistore marketplace, etc solutions for industry
Excellent support and consultancy
We have a dedicated support team that delivery the excellent support
Private customization for your project
If you don't like our product as it is, you can custom it as you want
Long-term partnership care
We also want to have a long-term partnership with customer to support and take care
Changelog
See our changelog below to update your site better
Compatible with: Magento 1.6.x, Magento 1.7.x, Magento 1.8.x, Magento 1.9.2.x, Magento 1.9.x
Version 2.0 Updated: 2014, Oct 08
+ Compatible with MCE 1.9.x
+ Improve load speed on site
+ Update License function
Version 1.0 Updated: 2014, Sep 08
+ Compatible with MCE 1.5.x - 1.8.x
+ Support Responsive layout
Our Community
Go to our forum to hear what people discuss and get new info
Ask a question
(8) Reviews
Don't just hear from our side, hear from our beloved customers and try our demo, you will find what they said is true
John Nelson
Submitted:
I've used your product for a week, it is even greater than what I thought before. 5 stars for quality and support policy.
Kevin Woods
Submitted:
I love this theme, it looks great. The latest version has several new features, design quality wonderful. Everything is realy excellent.
Paul Nguyen
Submitted:
Best support ever, we are really satisfied with your support services!
Christine Rogle
Submitted:
An elegant design theme. The installation was a little tougher, but the support team help me a lot and i have the entire site up and running in a few hours. Thank you and keep up the good work!
Jeanne Pokrovskaya
Submitted:
This is a good product, after using this template, my online store become chic, elegance and class. Thanks support team.
Kapil Murugiah
Submitted:
Great and very fast product support from the team. Will surely recommend to friends and family! :)
Edith Vinogradova
Submitted:
This product is well designed professional, dedicated to the wine store online. I is no longer encountered difficulties when sales on its website as before. Thank developers have created one such good products.
Spencer Holloway
Submitted:
I use this theme because of the diversity of features and decorated layout beautifully. Currently it is working very well on my online store.
Customization Request & Contact Us
Please fill out the customization request form if you need any
Ms.Janet Tran
Skype: janet.tran.92
WhatsApp: +84 963 296 509
Email: [email protected]
Mr. Vincent Ray
Skype: live:vincent_4281
WhatsApp: +84 978 847 058
Email: [email protected]
WE ARE IN LOVE WITH CLIENT
Recently, we discovered how client loving working with us by their 5 star recommedation

Top