Virtuemart Multiple Images Upload Plugin
A super fast plugin to upload a number of images to your products in only one click.
Details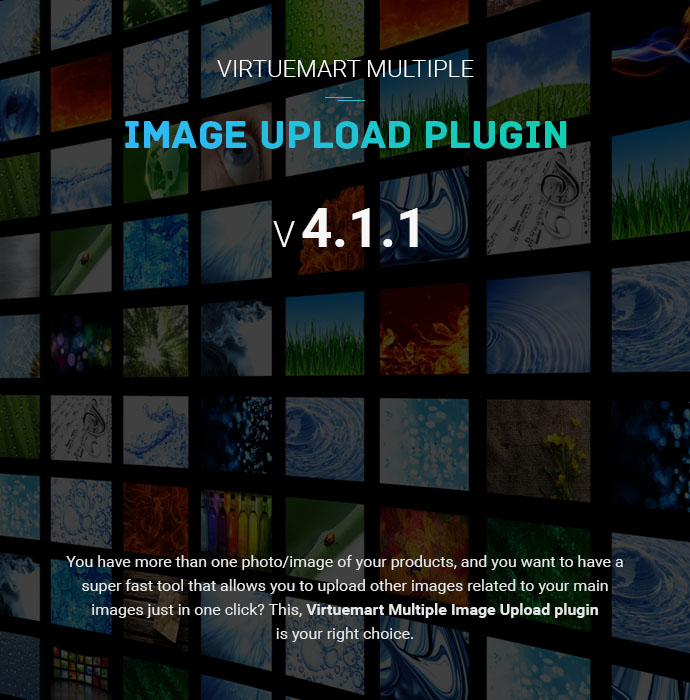 You have more than one photo/image of your products, and you want to have a super fast tool that allow you to upload other images related to your main images just in one click? Thus, Virtuemart Multiple Image Upload plugin is your right choice.
One of the best features of this plugin is a perfect tool for you to simply browse image files to upload multi images into products at the same time. It is able to upload multi images with a super fast speed to optimize your images uploading process and save big time, you can create more other products listings inVirtuemart.
This image upload plugin for Virtuemart can be automatically created thumbnail photo for uploaded images. Conveniently, it is easy for you to edit or remove images while uploading if wanted. Customers can easily go to the "Image" tab on the product detail page and upload multiple images besides the main product image just by one click. The upload button will only be active after you saved the first product.
Virtuemart Multiple Image Upload Plugin is compatible with latest Virtuemart and Joomla version. It is 100% open source without core Joomla Virtuemart hacks.
Now try Live Demo to get more experience. We believe that you will feel more excited with it at first click.
Demo Account:
Username: demo-cmsmart
Password: cmsmart123
Multiple images upload

Virtuemart Multiple Image Upload plugin will save your time and allow you to work more efficiently when you create your products listings in Virtuemart. Just choose multiple images at the same time, and upload all of them automatically.

Automatically create thumbnails

Automatically create images thumbnails for uploaded photos

Easily edit/remove images

All uploaded images will be displayed under the Tab "Product Images", customers do not need to come back the product listing page. This is a ways of saving time and very convenient

Cross-Browser Support

This extension themes work great with all modern browsers like Firefox, Chrome, Safari, Opera and Internet Explorer 9+
Product Reviews (8) Write a review
Submit your review
First: rate the product. Please select a rating between 1 (poorest) and 5 stars (best)
Become a client on Cmsmart, you are protected strongly with our Client Protection Programe. Especially we built -in a strong Central Ticket Support system to help clients and partners working on the products item support after purchased.
Go to item support
Latest training videos
How to install Virtuemart Multiple Images Upload Plugin
Userguide
We are happy to provide the customization services to buyer of this product, please submit your request here and we will contact you ASAP
Submit Request Customized
Change log
Updated: 2017, Feb 23
+ Compatible with Joomla 3.6.x and Virtuemart 3.0.x
+ Fixed bug upload images with uppercase file extension
+ Add language file for this plugin
Updated: 2016, May 17
+ Compatible with Joomla 3.4.1 and Virtuemart 3.0.9
+ Fix failed upload in backend
Updated: 2015, Oct 05
# Fix errors on Virtuemart 2.6
+ Compatible with Joomla 3.x and Virtuemart 2.9.8
+ Update multiple image upload layout
+ Turn on/ off the auto save function
+ Update options with IOS 7 style
Updated: 2015, Jan 12
+ Compatible with Joomla 2.5.x and Virtuemart 2.6.x
Updated: 2014, Oct 09
+ Upgrade layout
+ Add features on/off auto save feature
+ Fix bug: cannot display upload button
+ Clear code
Updated: 2014, Sep 08
+ Compatible with Joomla 2.5.x, Virtuemart 2.x.x
This is a Virtuemart Extensions item
Product rating:
|
Write a review
Joomla 2.5.x, Joomla 3.2.x, Joomla 3.3.x, Joomla 3.4.x, Joomla 3.5.x, Joomla 3.6.x, Joomla 3.x, Virtuemart 2.0.x, Virtuemart 2.6.x, Virtuemart 2.9.x, Virtuemart 3.0.9.x, Virtuemart 3.1
Why choose
Cmsmart?
Leading in quality and performances
We are proud ourselves to release our quality products to the e-commerce world.
Full solutions for niches industry
We provide many powerful completed Printshop, Multistore marketplace, etc solutions for industry
Excellent support and consultancy
We have a dedicated support team that delivery the excellent support
Private customization for your project
If you don't like our product as it is, you can custom it as you want
Long-term partnership care
We also want to have a long-term partnership with customer to support and take care